Adam Couple ♡ Adam Success !!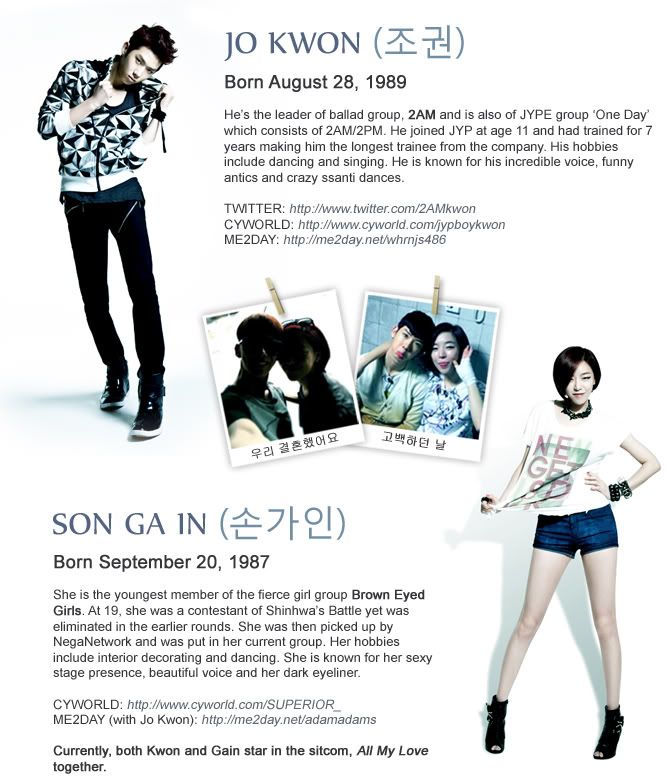 Jo Kwon and Ga In are a virtual couple on MBC's reality show, We Got Married. The program follows the participating celebrities who are coupled as husband and wife as they portray the lives of newly weds. Although they were initially only supposed to feature for the Chuseok Special that aired on October 3rd, 2009 their appearance brought in the highest ratings yet for Season II, and they were announced a permanent couple.
Jo Kwon and Ga In were originally dubbed the "Adam-Eve Couple" due to both of their inexperience in love and relationships. Yet nowadays they are more commonly known as the "Adam Couple" or Adams because of their small stature and their young age. ("Adam" is pronounced the same as the Korean term for "little/small"). Variations of their couple name are the Petite Couple, Small Couple, The Kid Couple, the Jo In Couple or the GaKwon couple. The latter two being both combination of their names.
Son Ga In and Jo Kwon have a two year separation in age, with Ga In being the eldest of the two. Long-time viewers were reminiscent of the Lettuce Couple (HwangBo and HyunJoong of SS501) who also had a Nuna-Dongsaeng relationship.
Nuna is a term used by males to address older females.

Dongsaeng is a term used by both male and female to address a person younger than them.

The couple released a duet titled "
우리 사랑하게 됐어요
" ("
We Fell in Love
") on December 16, 2009 which topped variety online music charts, winning 2 awards on Music Bank's K-Charts, "Most Popular Background Phone Music" on the Gaon Charts and Mnet Asian Music Awards for Best Collaboration. The song was composed by Jea (Brown Eyed Girls) and Lee MinSu and written by Kim Ina, Ga In and Jo Kwon. 50 million won from the profits of the song were donated to help out for Haiti's earthquake. For these efforts, Jo Kwon was given
"대한민국나눔"
award at the 3rd Korea Sharing Awards ceremony.
On February 2010, the couple was announced to be one of the Korean representatives of Chinese New Year Festival parade in Hongkong. This is one of the accomplishment that hasn't been achieved by any We Got Married couples before.
Jo Kwon also created a song for Ga In with the title
"고백하던 날"
("
The Day I Confessed
") which became popular and the song is included in 2AM's first full album. The song that he partially composed during the We Got Married broadcast for Ga-in. The song reached #1 on Cyworld real time charts the day after its release. They won their first Rookie Variety Awards at MBC Entertainment Awards for their participation in We Got Married. The couple also won the "Best Couple Award" and beat many other popular couples.
Unfortunately, due to their busy schedules, the Adam Couple must end their virtual marriage.The longest running couple announced their separation on January 6, 2011 through Shim Shim Tapa radio program, and the last episode was aired 2 weeks after the announcement. However, the end of their virtual marriage marked the start of their relationship as twins in the new MBC sitcom "All My Love". This only proves that Adam Couple is indeed forever, as Gain said,
'Even though We Got Married ended, Adam Couple will always remain'.

Rules do apply to this thread, so please follow accordingly.
Please read the rules before posting and adhere to the thread's rules as well as Soompi's rules.
This thread is not for personal conversations. Questions and discussions regarding the couple are allowed but do please refrain from making unnecessary comments, if people continue to spam, this thread will be closed. And if you do want to talk to fellow Jo-In fans, visit the chatroom!

Also do refrain from discussing the activities of the individuals, rather focus on the couple's own schedule.

Do Not Quote Images. Instead remove the tag around the link.

If you are taking any pictures/graphics do make sure to credit accordingly.

File sharing is not allowed.

While you're here, please do contribute if you can!

No one liner!

No bashing of any sort! RESPECT OTHERS! (see a troll? then report them)

Spread the Adam Couple Love!

Also, we highly recommend all readers to make themselves aware of the rules so the mods don't get angry.

And if the rules are broken do expect the thread to be closed.

A full list of rules applying to this thread can be found here.


Jan 25, 2013 - Jo Kwon, "I filmed 'We Got Married' as if I were really dating Ga In"
Credit to allkpop,kbites,2Oneday,newsen,nate
Special thanks to july31st for awesome headers! Also shout out to kaisen, xeth, BEG_is_LOVE, semi-fly, chewite, snejung and d00lie.