[Drama 2012] I'll Give You The Stars and The Moon / Moon and Stars For You 별도 달도 따줄게
[KBS ] Seo Ji Hye , Jo Dong Hyuk , Go Se Won
New daily drama replacing My One and Only .

Creating this thread to include info on drama links ( torrent / downloads )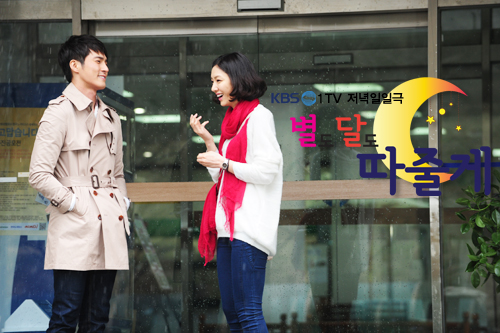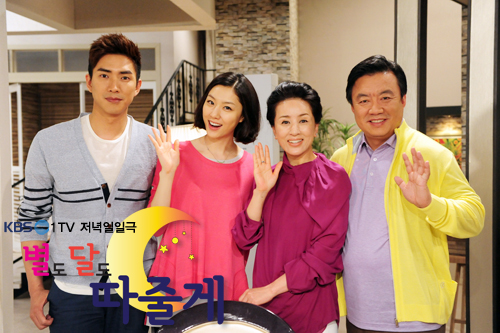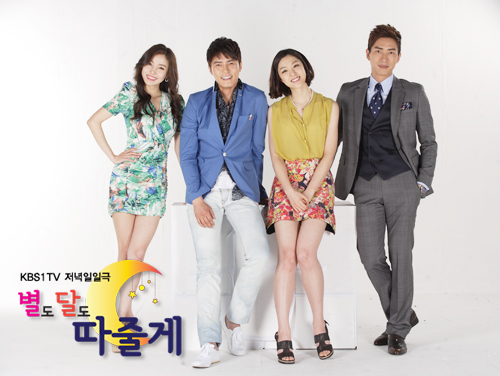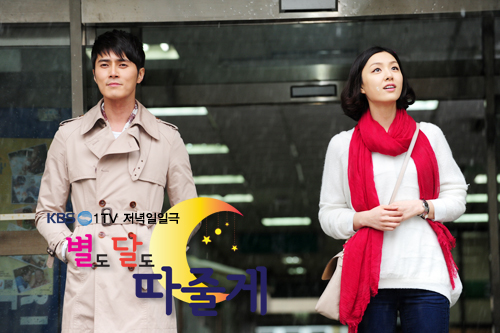 Main Cast

Jo Dong Hyuk as Seo Jin Woo
Seo Ji Hye as Han Chae Won
Go Se Won as Han Min Hyuk
Moon Bo Ryung as Cha Gyung Joo
Kim Young Chul as Seo Man Ho
Ban Hyo Jung as Kang Pil Soon
Kim Dong Yoon as Seo Jin Goo
Im Ji Eun as Park Na Rae
Lee Hyo Jung as Han Jeong Hoon
Lee Hye Sook as Oh Yeong Seon
Hong Il Kwon as Oh Yeong Taek
Moon Hee Kyung as Go Mi Ja
Hae Geum as Seo Jin Hee

Production Credits

Director: Jeon Sung Hong
ScriptWriter: Hong Young Hee


SYNOPSIS - from KBS World

A family is our reliable fence. Family members are the people whom we love so much that we would reach for the stars or the moon for them. Their care and love make us happy; however, sometimes they hurt us more seriously than others, leaving emotional bruises. Nonetheless when we are frustrated and lose hope due to the harsh realities of life, family gives us power to overcome it.

This drama tells the story about family members who realize family is their final protector at last after undergoing conflict that separated and scattered them. It is unique in the flood of provocative dramas and shows how the smart healing power of family can heal a broken family.
RATINGS
| Date | Episode | Nationwide | Seoul |
| --- | --- | --- | --- |
| 2012-05-07 | 01 | 19.2 (3rd) | 16.7 (3rd) |
| 2012-05-08 | 02 | 16.0 (3rd) | 13.6 (3rd) |
| 2012-05-09 | 03 | 15.6 (2nd) | 14.5 (4th) |
| 2012-05-10 | 04 | 17.1 (1st) | 15.1 (1st) |
| 2012-05-11 | 05 | 16.3 (2nd) | 14.4 (3rd) |
| 2012-05-14 | 06 | 18.9 (3rd) | 17.2 (4th) |
| 2012-05-15 | 07 | 17.4 (3rd) | 14.6 (4th) |
| 2012-05-16 | 08 | 16.5 (2nd) | 14.3 (4th) |
| 2012-05-17 | 09 | 18.0 (2nd) | 15.7 (6th) |
| 2012-05-18 | 10 | 16.7 (1st) | 13.9 (3rd) |
| 2012-05-21 | 11 | 22.3 (1st) | 19.3 (2nd) |
| 2012-05-22 | 12 | 22.9 (1st) | 19.5 (2nd) |
| 2012-05-23 | 13 | 20.1 (1st) | 17.8 (2nd) |
| 2012-05-24 | 14 | 20.9 (1st) | 18.0 (1st) |
| 2012-05-25 | 15 | 20.9 (1st) | 18.2 (1st) |
| 2012-05-28 | 16 | 23.6 (1st) | 19.5 (3rd) |
| 2012-05-29 | 17 | 22.5 (1st) | 20.2 (2nd) |
| 2012-05-30 | 18 | 21.1 (1st) | 17.8 (1st) |
| 2012-05-31 | 19 | 20.7 (1st) | 18.4 (1st) |
| 2012-06-01 | 20 | 21.2 (1st) | 18.0 (1st) |
| 2012-06-04 | 21 | 23.6 (1st) | 18.7 (3rd) |
| 2012-06-05 | 22 | 23.2 (1st) | 18.5 (2nd) |
| 2012-06-06 | 23 | 24.2 (1st) | 21.4 (1st) |
| 2012-06-07 | 24 | 22.1 (1st) | 19.6 (1st) |
| 2012-06-08 | 25 | 21.8 (1st) | 17.4 (1st) |
| 2012-06-11 | 26 | 23.0 (1st) | 18.2 (3rd) |
| 2012-06-12 | 27 | 22.6 (1st) | 18.3 (2nd) |
| 2012-06-13 | 28 | 20.6 (1st) | 17.3 (1st) |
| 2012-06-14 | 29 | 23.2 (1st) | 19.8 (1st) |
| 2012-06-15 | 30 | 22.0 (1st) | 18.5 (1st) |
| 2012-06-18 | 31 | 24.6 (1st) | 20.5 (2nd) |
| 2012-06-19 | 32 | 24.3 (1st) | 20.4 (2nd) |
| 2012-06-20 | 33 | 22.4 (1st) | 19.9 (2nd) |
| 2012-06-21 | 34 | 21.3 (1st) | 18.8 (1st) |
| 2012-06-22 | 35 | 22.9 (1st) | 20.6 (1st) |
| 2012-06-25 | 36 | 22.4 (1st) | 18.9 (2nd) |
| 2012-06-26 | 37 | 23.5 (1st) | 18.1 (3rd) |
| 2012-06-27 | 38 | 21.2 (1st) | 17.6 (1st) |
| 2012-06-28 | 39 | 23.3 (1st) | 22.0 (1st) |
| 2012-06-29 | 40 | 22.7 (1st) | 20.1 (1st) |
| 2012-07-02 | 41 | 23.9 (1st) | 21.4 (2nd) |
| 2012-07-03 | 42 | 23.4 (1st) | 20.7 (2nd) |
| 2012-07-04 | 43 | 22.0 (1st) | 19.1 (1st) |
| 2012-07-05 | 44 | 21.6 (1st) | 19.7 (2nd) |
| 2012-07-06 | 45 | 26.3 (1st) | 22.7 (1st) |
| 2012-07-09 | 46 | 22.0 (1st) | 19.1 (1st) |
| 2012-07-10 | 47 | 24.1 (1st) | 20.7 (3rd) |
| 2012-07-11 | 48 | 25.9 (1st) | 22.6 (2nd) |
| 2012-07-12 | 49 | 24.4 (1st) | 21.2 (1st) |
| 2012-07-13 | 50 | 25.4 (1st) | 22.7 (1st) |
| 2012-07-16 | 51 | 23.5 (1st) | 19.0 (3rd) |
| 2012-07-17 | 52 | 24.6 (2nd) | 21.3 (2nd) |
| 2012-07-18 | 53 | 23.5 (1st) | 18.6 (2nd) |
| 2012-07-19 | 54 | 25.4 (1st) | 21.1 (1st) |
| 2012-07-20 | 55 | 25.3 (1st) | 22.8 (1st) |
| 2012-07-23 | 56 | 24.0 (1st) | 21.3 (1st) |
| 2012-07-24 | 57 | 23.9 (1st) | 21.2 (1st) |
| 2012-07-25 | 58 | 20.1 (2nd) | 16.8 (3rd) |
| 2012-07-26 | 59 | 23.6 (2nd) | 20.5 (2nd) |
| 2012-07-27 | 60 | 23.4 (1st) | 21.2 (1st) |
| 2012-07-30 | 61 | 24.5 (1st) | 21.4 (2nd) |
| 2012-07-31 | 62 | 25.1 (1st) | 22.4 (3rd) |
| 2012-08-01 | 63 | 20.9 (2nd) | 17.0 (6th) |
| 2012-08-02 | 64 | 22.6 (2nd) | 19.9 (4th) |
| 2012-08-03 | 65 | 22.7 (2nd) | 19.8 (5th) |
| 2012-08-06 | 66 | 24.6 (1st) | 21.1 (1st) |
| 2012-08-07 | 67 | 25.7 (1st) | 21.8 (2nd) |
| 2012-08-08 | 68 | 22.7 (1st) | 20.3 (1st) |
| 2012-08-09 | 69 | 23.9 (1st) | 19.8 (2nd) |
| 2012-08-10 | 70 | 25.2 (1st) | 22.3 (1st) |
| 2012-08-13 | 71 | 26.6 (1st) | 23.3 (1st) |
| 2012-08-14 | 72 | 25.2 (1st) | 21.9 (1st) |
| 2012-08-15 | 73 | 26.4 (1st) | 24.3 (1st) |
| 2012-08-16 | 74 | 28.4 (1st) | 24.8 (1st) |
| 2012-08-17 | 75 | 27.0 (1st) | 23.8 (1st) |
| 2012-08-20 | 76 | 29.0 (1st) | 25.4 (1st) |
| 2012-08-21 | 77 | 30.8 (1st) | 28.4 (1st) |
| 2012-08-22 | 78 | 30.2 (1st) | 26.7 (1st) |
| 2012-08-23 | 79 | 31.9 (1st) | 28.7 (1st) |
| 2012-08-24 | 80 | 28.6 (1st) | 23.5 (1st) |
| 2012-08-27 | 81 | 30.0 (2nd) | 26.2 (2nd) |
| 2012-08-29 | 82 | 23.4 (1st) | 21.2 (1st) |
| 2012-08-30 | 83 | 28.1 (1st) | 24.6 (1st) |
| 2012-08-31 | 84 | 27.9 (1st) | 25.1 (1st) |
| 2012-09-03 | 85 | 26.2 (1st) | 23.1 (1st) |
| 2012-09-04 | 86 | 30.1 (1st) | 27.0 (1st) |
| 2012-09-05 | 87 | 26.7 (1st) | 23.6 (2nd) |
| 2012-09-06 | 88 | 29.2 (1st) | 26.4 (2nd) |
| 2012-09-07 | 89 | 29.0 (1st) | 24.6 (1st) |
| 2012-09-10 | 90 | 29.3 (1st) | 25.1 (1st) |
| 2012-09-11 | 91 | 29.8 (1st) | 24.9 (1st) |
| 2012-09-12 | 92 | 27.5 (1st) | 23.5 (1st) |
| 2012-09-13 | 93 | 29.6 (1st) | 25.4 (1st) |
| 2012-09-14 | 94 | 27.1 (1st) | 22.7 (1st) |
| 2012-09-17 | 95 | 29.4 (1st) | 25.3 (2nd) |
| 2012-09-18 | 96 | 28.2 (1st) | 24.8 (1st) |
| 2012-09-19 | 97 | 25.8 (1st) | 22.8 (1st) |
| 2012-09-20 | 98 | 25.8 (1st) | 23.2 (1st) |
| 2012-09-21 | 99 | 24.9 (1st) | 21.8 (1st) |
| 2012-09-24 | 100 | 27.6 (1st) | 24.3 (1st) |
| 2012-09-25 | 101 | 27.1 (1st) | 21.7 (1st) |
| 2012-09-26 | 102 | 25.4 (1st) | 22.4 (1st) |
| 2012-09-27 | 103 | 27.7 (1st) | 23.4 (1st) |
| 2012-09-28 | 104 | 26.2 (1st) | 23.5 (1st) |
| 2012-10-01 | 105 | 27.7 (1st) | 25.0 (1st) |
| 2012-10-02 | 106 | 29.5 (1st) | 25.7 (1st) |
| 2012-10-03 | 107 | 30.9 (1st) | 26.6 (1st) |
| 2012-10-04 | 108 | 28.4 (1st) | 24.5 (1st) |
| 2012-10-05 | 109 | 28.2 (1st) | 24.5 (1st) |
| 2012-10-08 | 110 | 32.9 (1st) | 29.4 (1st) |
| 2012-10-09 | 111 | 29.4 (1st) | 26.1 (1st) |
| 2012-10-10 | 112 | 26.4 (1st) | 23.0 (1st) |
| 2012-10-11 | 113 | 27.4 (1st) | 25.1 (1st) |
| 2012-10-12 | 114 | 30.4 (1st) | 28.8 (1st) |
| 2012-10-15 | 115 | 30.9 (1st) | 27.4 (1st) |
| 2012-10-16 | 116 | 30.7 (1st) | 26.8 (1st) |
| 2012-10-17 | 117 | 27.8 (1st) | 23.4 (1st) |
| 2012-10-18 | 118 | 28.8 (1st) | 24.7 (1st) |
| 2012-10-19 | 119 | 33.0 (1st) | 30.1 (1st) |
| 2012-10-22 | 120 | 28.0 (1st) | 24.6 (1st) |
| 2012-10-23 | 121 | 31.4 (1st) | 28.1 (1st) |
| 2012-10-24 | 122 | 28.3 (1st) | 24.5 (1st) |
| 2012-10-25 | 123 | 34.6 (1st) | 31.2 (1st) |
| 2012-10-26 | 124 | 28.7 (1st) | 24.4 (1st) |
| 2012-10-29 | 125 | 27.1 (1st) | 23.6 (1st) |
| 2012-10-30 | 126 | 30.4 (1st) | 26.3 (1st) |
| 2012-10-31 | 127 | 31.3 (1st) | 26.8 (1st) |
| 2012-11-01 | 128 | 30.1 (1st) | 27.3 (1st) |
| 2012-11-02 | 129 | 30.3 (1st) | 26.8 (1st) |
Who's Online in this Forum

59