[drama 2007] '9 End 2 Outs' 9회말 2아웃
[MBC] Su Ae, Lee Jung Jin
MBC: '9 end 2 outs' / 9회말 2아웃
http://imbc.com/broad/tv/drama/2out
Actors/Actresses: Su Ae, Lee Jung Jin, Lee Tae Sung, Hwang Ji Hyun, Lee Sang Woo
eps: 16
airs: July 14, 2007 - Saturdays & Sundays 8:45 p.m korean time
story: The drama is about love of singles in their 30s and Su Ae will play "Hong Nan-hee," an ordinary worker at a publishing firm, a girl who always falls out of love since young until one day when she meets an old classmate, Byun Hyung Tae (Lee Jung Jin) who is a team leader of an advertising company again. Byun Hyung Tae may seem to be a good catch in the eyes of many women but he's only a cowardly boy to Nan Hee whom he has grown up with.
'9 end 2 outs' means using the baseball themes to compare to the fates and lives of the people in love.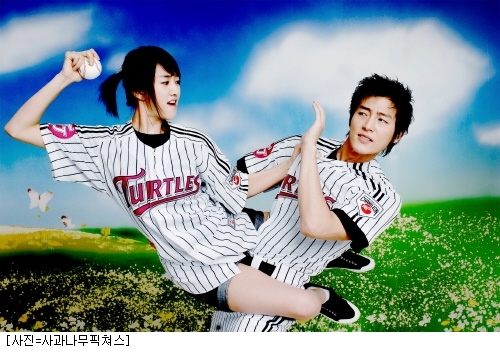 CB with HQ
http://clubbox.co.kr/WITHS2CB
(Subs will be timed according to Withs2 Vids)
Non-CB links
http://www.soompi.com/forums/index.php?showtopic=136925
Disclaimer -

lyptika was/is never a member of withs2 like some people claimed. And he/she went against Withs2's warning of never to upload or hard-subbed any of our subs to the online sites. If any legal proceedings should be brought against him/her, Withs2 will not bear any legal responsibility for his/her actions or anyone else who upload or hard-subbed and upload to the online sites.
Warning (These are rules that must be read and followed)



01. Don't spam with requests for Subs & uploads ( Mods will close thread if they see too much of these)
02. Never upload WithS2 subs or hard-sub using withS2 subs to upload to online places such as Veoh, Youtube, etc as there are some copyright laws involved. (Don't blame me for not warning first if anything happens to the online sites uploaders)
Viet-subs - credit Love_at_Dolphin
http://www.iuphimhan.com/sarang/index.php?showtopic=6832
Official OST - Credit Koreanwind (credit english translations of songs to me)
01.9 end 2 outs (Title Theme)
02.Fly Again - star (Star)
03.The right period for love - Moses
04.Because of U
05.Can you see - Ji Ho
06.Stay - Jung Jae Wook
07.The words of thirties 1 - Empty (Tango)
08.Summer Love
09.Stolen base
10.If this is really love...
11.The words of thirties 2 - Loneliness (Whistle)
12.Friendship & Love
13.Your fragrance
14.Bunt
15.The words of thirties 3 - Waiting (Bossanova)
16.White memory
17.Cheju-Do reminiscence
18.Travel of 180 days
http://daumbgm.nefficient.co.kr/mgbdamu/A0...00139046401.wma
01-18
http://daumbgm.nefficient.co.kr/mgbdamu/A0...00139046418.wma
Mvs credit to jovi75
1.
http://www.youtube.com/watch?v=Slq6amlETbI
2.
http://www.youtube.com/watch?v=_IaIrCY02d0
3.
http://www.youtube.com/watch?v=L00mp6fWVzc
4.
http://www.youtube.com/watch?v=7hx9GFoQixc
5.
http://www.youtube.com/watch?v=ZNc_ubEM6gw
If you like our Fansubs, please help donate to Soompi or withS2 to keep them alive.
No promotions of illegal streaming sites
Having fun with
Little Missy And The Unlucky Teacher
/
Lim Ju Eun
/
Jumping rabbit's vids
The best dramas can in
Aja-Aja.com
/
Twitter
/
Repentance
Next Drama threads set up - Chocolat, Bride of the water god
Who's Online in this Forum

36