[Drama 2013] When A Man Loves 남자가 사랑할 때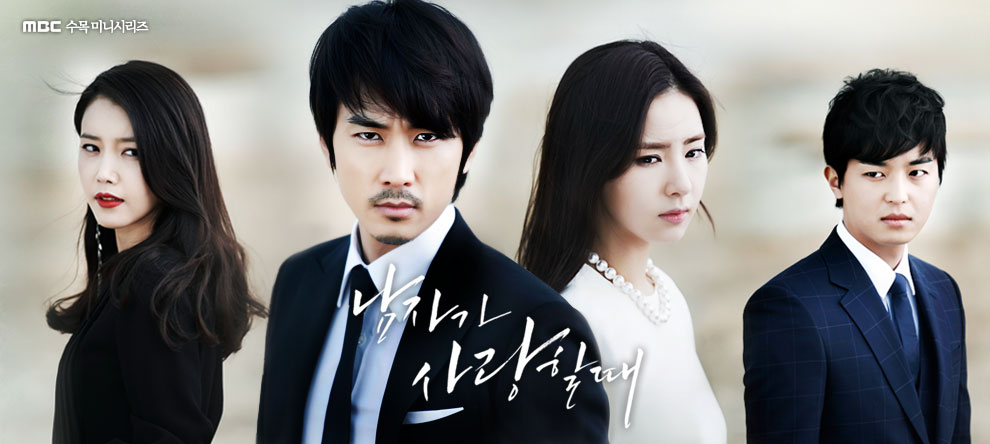 Date of airing :

3th April 2013


Broadcasting station : MBC
Time of airing :

9:55 pm (korean time)


Official site :

http://www.imbc.com/broad/tv/drama/mil/index.html
MBC eng.site:http://content.mbc.co.kr/english/drama/13/2204083_49043.html
Writer :
김인영 Kim In Young
PD :
김상호
Kim Sang Ho

Eps: 20
Main Cast :
Song Seung Hoon, Shin Se Kyung, Yeon Woo Jin , Chae Jung Ahn
Supporting Cast :
Kim Sung Oh, Lee Chang Hoon, Jang Young Sook, Kang Shin Il, Oh Young Sil, Lim Jae Bum (JJ Project), Park Min Ji
Lee Seung Hyung
Story :
A star-crossed love destiny
between
Han Tae Sang 한태상 (Song Seung Hoon) a business man in his 40s who went through a lonely childhood after he was abandoned as a child

and Seo Mi Do
서미도 (Shin Se Kyung),
a bright and cheerful girl
in her 20s who never gave up her dreams despite growing up in
poverty.
Although Tae Sung's late boss's woman, Baek Seong Joo 백성주 (Chae Jung Ahn) who has the aura of a bewitching beauty, has a long-standing crush on him even when his late boss was still alive,
his heart began to get attracted to Mi Do who is living like a reflecting mirror of his own past self.
Meanwhile Mi Do is pursued by the ambitious and smart Lee Jae Hee 이재희 (Yeon Woo Jin) who
is known to be as sharp and
intelligent like a lone wolf.
Although Jae Hee is grateful towards Tae Sung for being friends with his brother "Chang Hee", their relationship starts to fall apart when he realised that they are fighting for the love of the same woman.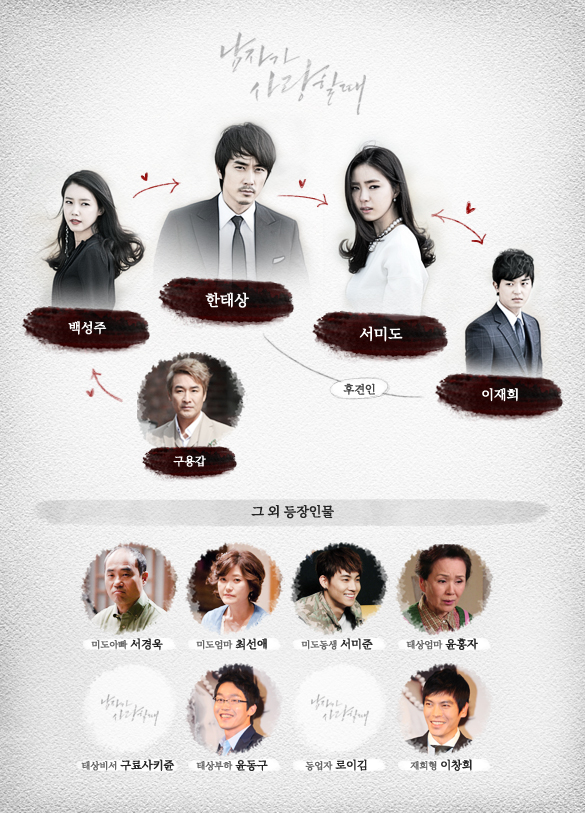 =================================


01.Soompi code of conduct


02.Do not post request for Subs. Do not request for Vids either. Just dled from what the other soompiers provide you.
Do not post requests for any bt seedings of any vids links as Soompi is not responsible for any of them
Do not request of translations of any kind, as translations are done by our fellow soompiers' free will.
Use the online google translator. http://translate.google.com if you want to read the basic translations of any news in korean.
Anyone who posts these kind of requests, spam or break any of soompi forum rules will be reported to the mods immediately without any warning given.
03.Do not steal any download links from AJA-AJA and paste them out to Soompi or another site.
Go directly to the aja-aja site if you want to dl anything.
Don't post any requests for subs!
Anything unrelated to the drama plot is considered spamming.

01.Due to the copyright/legal problems, no illegal streaming links will/should be posted on this thread as there had been major crackdowns going on lately.
02.The editing fuction of the forum has already been fixed so you can edit your posts instead of repeating postings thinking that you can't.
03.Any complaints about any streaming links will be counted as spam and will be reported to the mods.
04.Any complaints of the respective companies such as Viikii, youtube, Etc.. should be report to the respective companies instead of posting your complaints here.
05.Those who are caught breaking the soompi posting rules more than 5 times will have their Id/IDs reported the mods.
06.Those who are caught promoting/posting illegal streaming links with subs ( those without permission from the orginal subbers and doesn't have copyrights like Dramafever or Crunchyroll) will have their Id reported to the mods for endangering Soompi to legal issues for illegal streaming sites promotions.
====================


Links

Nate news Link
Song Seung Hoon's Twitter
Shin Se Kyung's Twitter
Ratings
If you like our Fansubs, please help donate to Soompi or withS2 to keep them alive.
No promotions of illegal streaming sites
Having fun with
Little Missy And The Unlucky Teacher
/
Lim Ju Eun
/
Jumping rabbit's vids
The best dramas can in
Aja-Aja.com
/
Twitter
/
Repentance
Next Drama threads set up - Chocolat, Bride of the water god
Who's Online in this Forum

91