[2009 drama]Invincible Lee Pyung Kang 천하무적 이평강
[KBS] Nam Sang Mi, Ji Hyun Woo, Park Ki Woong, Choi Myung Gil


Date of airing : 9th Nov'09 After Queen returns ends [Mon ~ Tue (10:00 p.m korean time)]
Official site : http://www.kbs.co.kr/drama/peongkang/index.html
Director: Lee Jung Sub 이정섭
Screenwriter: Park Kye Ok
Cast : Nam Sang Mi, Ji Hyun Woo, Seo Do Young, Park Ki Woong, Cha Ye Ryun, Kim Heung Soo, Yeon Mi Joo, Ahn Hye Kyung, Choi Myung Gil, Kil Yong Woo
Eps : 16Story :
Lee Pyung Kang (Nam Sang Mi), a strong-headed lowly chores employee at the resort town who wanted to follow in her dead father's footsteps to become a golf course designer meets up and crashes with Woo On Dal (Ji Hyun Woo), the prodigal son of a rich man. As romance blooms between them through their constant disagreements and fights, unpredicted events occurred like their love were destined to be tested. Could it be coincidental or fate as their names implicate their past lives could linked to the infamous crybaby Princess "Lee Pyung Kang" and the stupid "On Dal" who had pledged to love each other forever.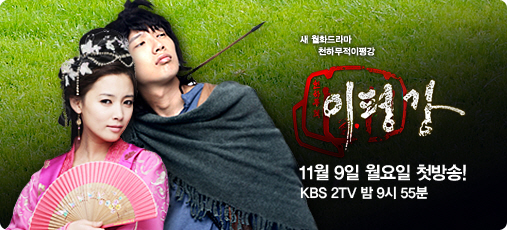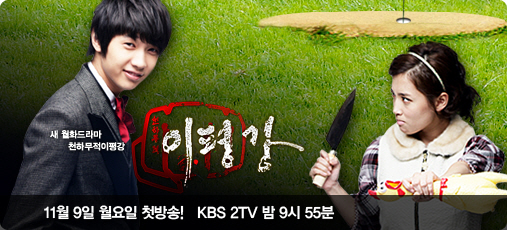 Character descriptions

- Princess Pyung Kang / Lee Pyung Kang (Nam Sang Mi)
She may have been the infamous crybaby "Princess Lee Pyung Kang" in her previous life but in this life, she is the head-strong and stubborn lowly chores employee at the resort town who wanted to follow in her dead father's footsteps to become a golf course designer, she works hard at work and is proud of it. Everything was going well for her until she meets Woo On Dal, the hateful prodigal son of the rich man who employed her. Although sparks of anger always seen whenever she and On Dal are together as they are always bickering whenever they meet. But she still wonders sometimes if they had already met a long time ago as she finds him strangely familiar and why is she developing a strange endearing feeling for him, shouldn't she be hating him for making her life miserable?

- General On Dal / Woo On Dal (Ji Hyun Woo)
On Dal, the most famous fool in Korean history who is often bullied by people around because of his good nature and over-honesty in his previous life has managed to turn his fate around in his present life as Woo On Dal, the son of a rich man. Being sharp-tongued and cold, he commands fear and respect from the people around him. So how dare that lowly employee, Lee Pyung Kang go against him and causes him to get into embarrassing situations all the time? But why is he feeling the sting of jealous whenever he sees Edward getting close to her?

- Edward (Seo Do Young)
Born to an American father and a Korean mother, he is a professional golfer who won PGA Championship several times since he was young. As a daddy long-legs suitor of Lee Pyung Kang, he got to the nerves of Woo On Dal who realized that he has fallen for the stubborn girl.

- Gi-saeng Ja Rak/ Kwan Ja Rak (Cha Ye Ryun)
In her past life, she was the love rival who lost in her battle of love against Princess Pyung Kang who came into Woo Dal's life. But in this present life, she is a model and the girlfriend of Woo On Dal and she is the only person that On Dal loves whole-heartedly despite his cold exterior. But why has On Dal began to change since he met Lee Pyung Kang? Although he is becoming more like a human instead of the ice prince that he has always been, she feels that they are drifting further apart.

- Queen Je Mun / Je Hwang Hu (Choi Myung Gil)
She was the evil queen that separated Princess Pyung Kang and On Dal during 1400 BC and followed their reincarnations into their present lives as well. Being a real estate tycoon who has ambitious plans and Woo On Dal's step-mom, she creates troubles and misunderings between Pyung Kang and On Dal as they get into the way of her plans . Will she be able to keep the destined couple separated or be out-witted by them this time?

- Jo Sun In (Park Ki Woong)
He lost his childhood memories and parents due to a Gangwon landslide accident when he was young. It caused him to have autism and can only express his feelings through rap music which is like a medcine to heal his inner wounds. He is in love with Jo Bi Yun who is a divorcee.

- Princess Pyung Kang's maid in waiting / Jo Bi Yun (Yeon Mi Joo)
In her previous life, she was Pyung Kang's loyal palace maid who will risks her life to protect Princess Pyung Kang from danger and harm. And in her present life, she is loyal friend and Unni to the stubborn Pyung Kang who protects her like always. She is the girl that Jo Sun In likes but Jo Bi Yun has always tried to reject him not only because she is a divorcee but also because of their age differences.

- Je Young Ryu (Kim Heung Soo)
He is the son of Real estate tycoon, Je Hwang Hu and the step-brother of Woo On Dal. He is a person who has skills and resourcefulness to deal with others no matter where he goes but he was forced to give up on his dreams and love due to his mother's ambitions.
- King Pyung Won / Woo Pyung Won (Kil Yong Woo)
In the past life, he was the father of Princess Pyung Kang who threatened the crying princess that he was going to marry her off to the stupid On Dal if she doesn't stop but ended up regreting his words when Pyung Kang insisted on marry On Dal due to his promises. He kept rejecting On Dal until Pyung Kang made On Dal worthful to his eyes through her 'training'. In the present life, he became On Dal's father instead who is constantly worried and angry over the actions of his wayward son. So it's time for Pyung Kang whom he has taken a fatherly liking to 'train' On Dal up again to stop his ambitious new wife and step-son from taking over his 'Kingdom'.

============


Must Read!! and follow!!
01.Soompi code of conduct
02.Do not post request for Subs as these posts will annoy the subbers
Do not request for Vids either. Just dled from what the other soompiers provide you.
Anyone who posts these kind of requests or spam will be reported to the mods immediately.
03.Do not steal any download links from AJA-AJA and paste them out to Soompi or another site.
Go directly to the aja-aja site if you want to dl anything.
============
Links for information or download
Nate news link
AJA-AJA link (RAW + OST)
Cute girl's BT links (RAW)
Rating chart (credit d-addicts)
============
Subbing team
WithS2
============
OST - Updated at Aja-Aja link
If you like our Fansubs, please help donate to Soompi or withS2 to keep them alive.
No promotions of illegal streaming sites
Having fun with
Little Missy And The Unlucky Teacher
/
Lim Ju Eun
/
Jumping rabbit's vids
The best dramas can in
Aja-Aja.com
/
Twitter
/
Repentance
Next Drama threads set up - Chocolat, Bride of the water god
Who's Online in this Forum

44