[MBC] Lee Seung Gi, Ha Ji Won, Lee Yoon Ji, Cho Jung Seok
Date of airing :
21st March 2012
Time of airing :
9:55 pm (korean time)
Official site :
http://www.imbc.com/broad/tv/drama/king2hearts/index.html
Writer : 홍진아 Hong Jin Ah
Director:
이재규 Lee Jae Gyu
Production company :
Kim Jong Hak Productions
Eps:
20
Main Cast :
Ha Ji Won, Lee Seung Gi, Lee Yoon Ji, Cho Jung Seok
Supporting Cast :
Lee Soon Jae, Yoon Yeo Jung, Yoon Jae Moon, Lee Seong Min, Lee Yeon Kyung, Jeong Man Sik
Kwon Hyun Sang, Choi Kwon, Lee Do Kyung, Samantha Dennis, Jeon Guk Hwan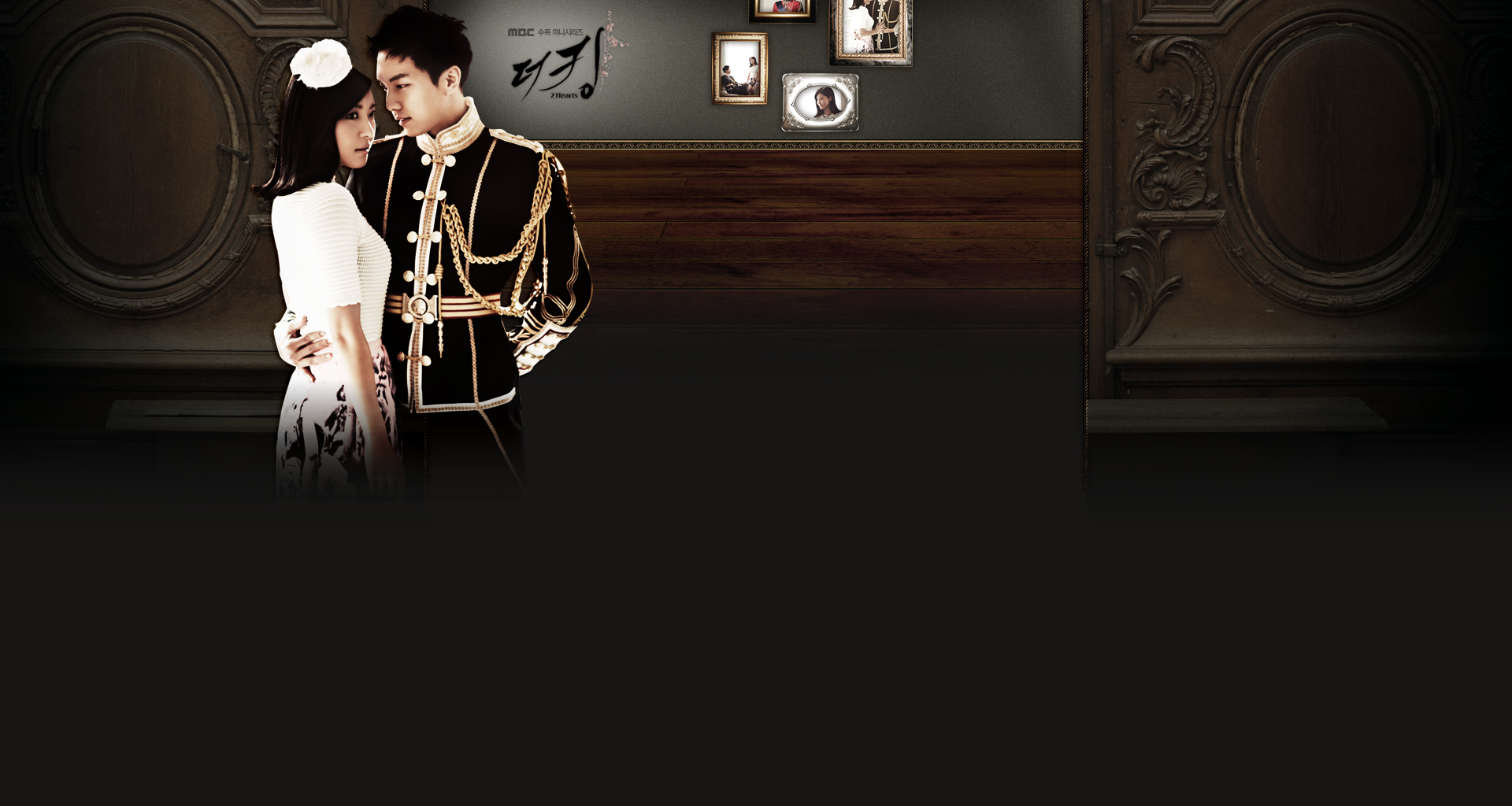 Story :
Lee Jae Ha, the supposed 2nd Prince of South Korea marries the thirty-something army instructor, Kim Hang Ah who is also the daughter of an influential family from the north korea through an arranged marriage after both of them were being caught in a "special situation". The once carefree and frank, Lee Jae Ha began to walk his road of revenge as the king after his older brother was killed in a bombing attack during his engagement. And as both of Jae Ha and Hang Ah slowly falls in love with each other despite of clashing and fighting at first, they finds themselves once again at the mercy of the political factors which had brought them together at first but now wants them to be apart.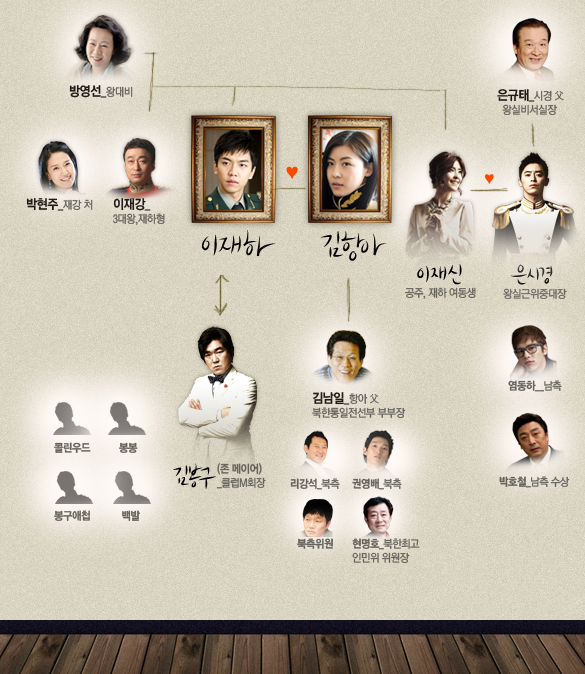 ===================
Cast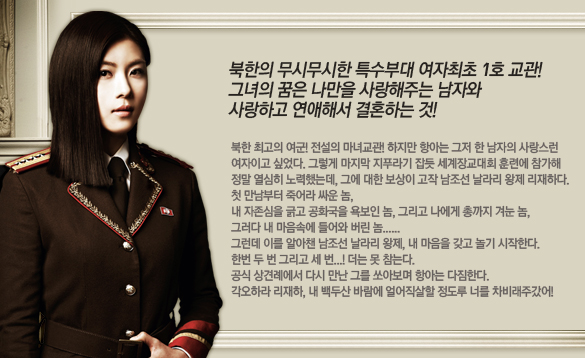 Kim Hang Ah (Ha Ji Won)
Although she is an elite beautiful officer who comes from an influential family from the north Korea but couldn't get married even when she is already thirty because of her fiery hot temper. She entered the WOC event to catch the eye of the man that she has a crush on but ended crossing paths with the south Korea's playboy crown Prince Lee Jae Ha and even ended up being engaged to him.She looks at him with sympathy after the death of his beloved brother and becomes determined bring down the man who is responsible for creating fractions between the two sides of Korea together with the Crown Prince that she once dislike.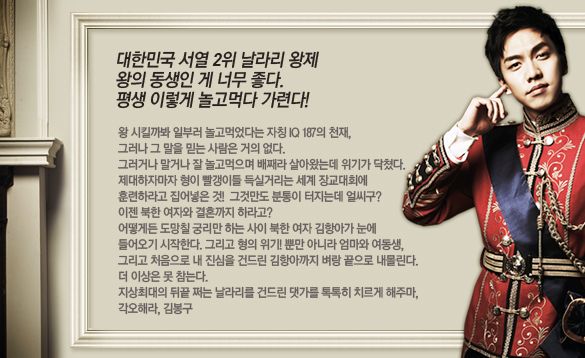 Lee Jae Ha (Lee Seung Gi)
Although he has an IQ of 187, he often covers up it by pretending to be "stupid" while leaving all the arrangements in his life to his "Straight A" prefect brother. Although he always states that the royal family is only for show in the modern times, he had led a comfortable life without much worries nor much to think about until he met Kim Hang Ah and Kim Bong Goo. And with the death of his brother at the hands of Kim Bong Goo, he becomes a King who walks on the path of revenge. A battle of wits and power struggle has started between the newly crowned King and the enemy who desires to be the king.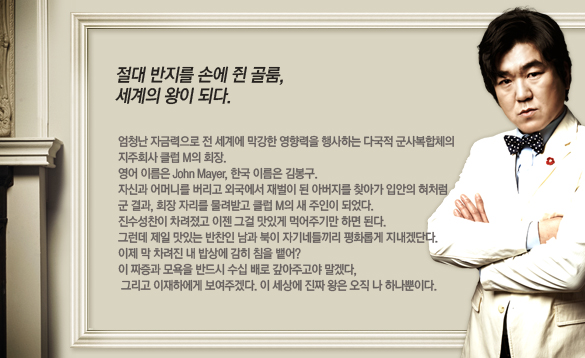 Kim Bong Goo / John Mayer (Yoon Je Moon)
He is a south Korean who was adopted to America, he holds a bitter hate towards his birth country and the royal family after he was deprived of his happy childhood after being sent away. As the President of Club M who holds strong political and military power behind the scenes, he runs for the Presidential post of south Korea but clashes with Lee Jae Ha and his brother.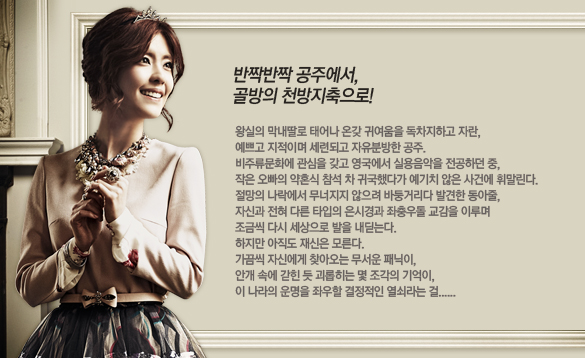 Lee Jae Shin (Lee Yoon Ji)
The free-spirited tomboy pretty princess who rather be singing uncover in a nightclub than living a life of pretending to be a perfect Princess of the nation. She reveals her inborn stubbornness and marched on bravely upon the death of her brother.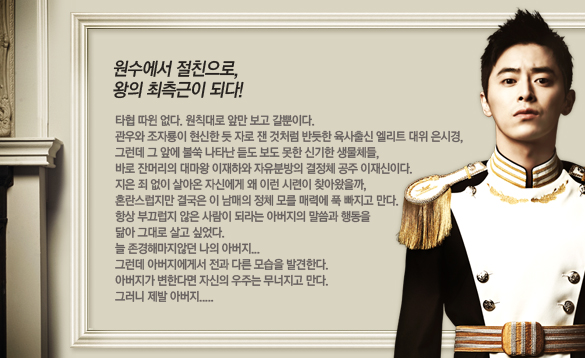 Eun Si Kyung (Cho Jung Seok)
He lives by the rules that he has to follow everything that his father said/orders throughout his life until his beliefs are shaken by the two persons that he is supposed to be protect.The princess and the Crown Prince brought changes in his life and he is left with more questions about his way of living when his world starts crumbling down even more when he thought the person who will be sticking to his beliefs all his life started to change as well.
===================
Must Read!! and follow!!
01.Soompi code of conduct
02.Do not post request for Subs. Do not request for Vids either. Just dled from what the other soompiers provide you.
Do not post requests for any bt seedings of any vids links as Soompi is not responsible for any of them
Do not request of translations of any kind, as translations are done by our fellow soompiers' free will.
Use the online google translator.
http://translate.google.com
if you want to read the basic translations of any news in korean.
Anyone who posts these kind of requests, spam or break any of soompi forum rules will be reported to the mods immediately without any warning given.
03.Do not steal any download links from AJA-AJA and paste them out to Soompi or another site.
Go directly to the aja-aja site if you want to dl anything.
04.
Do not spam your thanks for anything on Soompi thread. Pm your thanks to the user who helped you instead of posting on the actual threads.Soompi mods have already given warnings for thank you spams which wastes resources and actual server space, so pls pm the user instead if it's personal or a heartfelt thank you.
01.Due to the copyright/legal problems, no illegal streaming links will/should be posted on this thread as there had been major crackdowns going on lately.
02.Any complaints about any streaming links will be counted as spam and will be reported to the mods.
03.Any complaints of the respective companies such as Viikii, youtube, Etc.. should be report to the respective companies instead of posting your complaints here.
04.Those who are caught breaking the soompi posting rules more than once will have their Id/IDs reported the mods.
05.Those who are caught promoting/posting illegal streaming links with subs ( those without permission from the orginal subbers and doesn't have copyrights like Dramafever or Crunchyroll) will have their Id reported to the mods for endangering Soompi to legal issues for illegal streaming sites promotions.
====================
Links