OFFICIAL BABY VOX THREAD!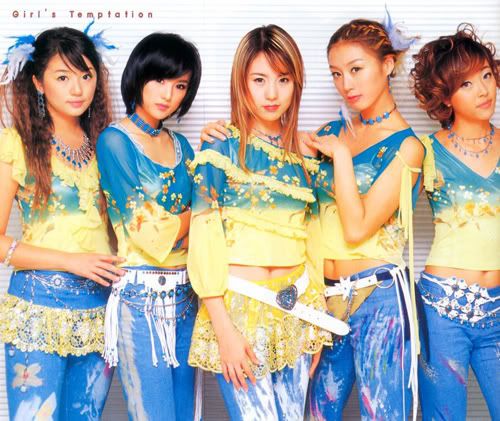 Welcome to the Official Baby VOX Thread! Even though Baby VOX has broken up, you can still find good information here and occasional updates.

1997 was Year of the VOX. Baby VOX, the VOX standing for 'Voice of eXpression', debuted in 1997 with then members Jang Shieun, Jang Hyunjun, Yumi, Lee Heejin and Kim Eiji. The first single released 'Muhli Hah Neun Nahl', or 'Haircut' in English, was styled after a new English group, the Spice Girls. The song didn't do so well, only reaching 47th in the kpop charts. After releasing another single and two music videos, Baby VOX decided to make some changes. Three of the original members, Jang Shieun, Jang Hyunjin and Yumi were taken out of the group and three new, fresh faces were brought in.

When Baby VOX's second album was released, the group was comprised of Kim Eiji and Lee Heejin of the original group along with three new singers, Kan Miyoun, Sim Eunjin and Lee Gai. Kan Miyoun had participated in some first album activities, as she was phased to make the member change easier. The singles released off this album were 'Ya Ya Ya' and 'Change'. These two songs fared much better with fans and Baby VOX reached as high as 7th in the kpop charts. Unfortunately, Lee Gai was unsuitable for the group, and she was asked to leave. It was time to find the final new member.

In 1999, Baby VOX released their third album, titled 'Come Come Come Baby' and showed off it's newest member, Yoon Eunhye. Once Eunhye joined the group, the Baby VOX we knew up until 2005 was complete. With each new album, Baby VOX had become to be known as very verstile, and this new look was no different. The new, more mature look helped this album soar. The singles from this album were 'Get Up', 'Killer' and 'Missing You'. 'Get Up' topped the kpop charts and has remained thier best selling album to date. In 1999, Baby VOX also hit the Chinese market and has had a very strong fanbase ever since.

The year 2000 marked another new album for Baby VOX, titled 'Why'. This album showed a very elegant and graceful look for the girls. Their fame was growing more and more. The singles released this time were 'Why', 'Baeshin', and 'Hu Rak' (Affection). By this time, Baby VOX had established themselves as one of the biggest Korean female groups around, comparable to SES or FinKL. Because they were so young and vibrant, Baby VOX made it a point to excel in dancing and performing, which added to thier popularity.

In the fifth album, 'Boyish Story', Baby VOX did a complete turn around and featured a sharp, boyish look. Always amazing fans, the singles released were 'Game Over' and 'In Hyung' (Doll). In this album, Baby VOX stepped into the world of song writing. Each member wrote and composed a song on this album, showing strength and talent and that their sucess has not come from their image alone.

May of 2002 showcased a compilation album, titled 'Special Album'. It is a box set containing three music cds with a VCD and a small photo book. The first two cds were comprised of past Baby VOX hits made into a non-stop dance mix. The third cd was full of ballads, with the VCD consisting of a music video for the new single 'Go', and fun self cameras. It is a nice set to show off all of Baby VOX's accomplishments.

By this time, each member had started to branch off a little bit and do some projects that interested each person. Eunhye and Eunjin modeled for various companies, while Heejin and Eiji acted in a drama. Miyoun usually doesn't do advertisments or act, preferring to work on her voice. All members are always seen popping up on various television game shows and talk shows. While they are strong as a group, individually, each member shines.

The next step for Baby VOX was to go totally live! In September of 2002, Baby VOX held their first, totally live full length concert. It was two hours long and a full stage production. They sang songs ranging from the second to special album. Each member also performed a small side production. For example, Kim Eiji did a ballet dance and Lee Heejin did a swing dance. The concert was released in VCD format and was a great sucess for Baby VOX.

In the winter of 2003, Baby VOX launched a 'world tour'. They visited Hong Kong, USA, Thailand, China and other spots. Baby VOX was very well recieved around the world and the tour only furthered thier popularity.

In March of 2003, Baby VOX released their first Japanese Mini Album. It's similar to a US single. It featured thier hit song 'Go' sung in Japanese. There were a few 'Go' remixes as well as a song from the fourth and fifth album. It was a sucess in Japan and another internation highpoint for Baby VOX.

April of 2003 brought another musical release, the sixth album, titled 'Devotion'. Another spectacular change from past albums, this album is highly techo and trance in sound and style. The singles from this album are 'What Can I Do', 'Devotion' and 'I'm Still Loving You'. 'What Can I Do', is a cover version of a title by Kim Changhwan and 'I'm Still Loving You' is sung in Mandarin Chinese especially for all Chinese fans. While those songs are the released singles, Baby VOX performed many songs from the album, just a few times. Songs such as 'Majimaken' and 'Catch Me'. And music videos were made for the three released singles, a video for 'May Be Love' was also made and released. Baby VOX keeps changing and evolving and they keep coming out with widespread hits. Even though Baby VOX didn't totally enjoy this album, many fans think this is the best album to date and it turned out to be a huge sucess for Baby VOX.

After a long and much anticipated wait, Baby VOX released their first ever Photo Album in May of 2003. It's a 93 page photo book filled with sexy and sometimes racy photos of each member of the group. It was a release filled with controversy, as many fans thought the group was going down a road that would lead to loss of innocence and unwanted attention. Attention focused soley on their bodies, and not talent. Baby VOX triumphed once again and showed the world that you can have everything you want - good music, talent and a good, fun and sexy image. Baby VOX's purpose for this photo album was to just have a good time and try something new, which they suceeded at greatly.

The next release was in April of 2004, the seventh album entitled 'Ride West'. This was another extremely anticipated album, due to it being promoted as an English album, with collaborations with Tupac Shakur and Jennifer Lopez. Many fans agree that this has not been the best album for Baby VOX, it having only two songs sung in English, 'Xcstasy' with Tupac and 'Play' with JLO and the rest of the album consisting of unecessary remixes of Xcstasy and Play and remixes of older songs. Also unfortunately, due to the dead rappers song involvement, this album did not go over too well. Many fans of Tupac protested Baby VOX's company using Tupacs vocals and a video of him, saying it wasn't right and that Baby VOX was only using Tupac for financial gain. There was even talk of Baby VOX and thier company being sued by Tupac's mother, saying that Baby VOX took Tupac's song and image illegally, but Baby VOX's involvement in any lawsuit was non-existant. Another negative spin for Baby VOX due to 'Ride West' is thier new, very sexy image. While most fans have no problem with thier clothing and seductive dances, a member of the kpop/rap group DJDOC, angered by Baby VOX using Tupac, called Baby VOX Richard Simmons and denounced them. All the accusations from DJDOC caused Baby VOX to stop all seventh album activities and take some time off. Due to all the negative publicity, Baby VOX has put a US debut on hold.

While on hiatus until the eighth album, Baby VOX has been doing some solo activities. In the past on breaks, the girls either act on tv or in musicals or model for advertisements. Lately, Eunhye has become a familiar face on TV shows such as game show XMAN and a news correspondant, even for the 2004 Olympic Games. Eunjin has joined up with a new group WaWa, participating in thier debut song 'BaBa' by lending her vocals and performing with them. In 2004 Baby VOX has made a few trips to Thailand and China and while on thier break, Heejin, Eiji and Miyoun have been relaxing and keeping out of the spotlight.

In January of 2005, Baby VOX's contract with DRMusic was at an end. Lee Heejin, Kim Eiji, Kan Miyoun and Yoon Eunhye all re-signed with DRMusic. Shim Eunjin, however, did not, and split with Baby VOX to persue her own solo and acting career.

In July of 2005, Yoon Eunhye split with Baby VOX to become an actress. Eunhye has become amazingly popular, staring in a full length movie and and a major drama, 'Goong' and 'Coffee Prince'.

In March of 2006, Baby VOX broke up. With Eunjin and Eunhye gone, the other members started looking in to solo projects and eventually made the decision to disband. Fans around the world were heartbroken. Kan Miyoun recorded her first album that debuted in the late summer of 2006. Kim Eiji is currently training to be actress and had a long run on MNET. Heejin will soon make her cable tv debut in a drama and act in a musical. The girls still get together for events and to hang out, so they're not all gone forever! Baby VOX has always held a special place in the heart of fans everywhere and they always will.

PROFILES

KIM EZ



Full Name - Kim EZ (Kim Eiji)
Birthday - February 3, 1980
School Career - Keyonghee Univ. Dance Department
Family - Lastborn; parents, older brother
Hobby - Accessory Design, Gather perfume
Instrument - Drums
Specialty - Korean Dance
Nickname - "OhEeJi"(it's a cucumber salad,but it's because of her name)
Address - Inchon
Height - 172cm (about 5'6")
Weight - 51kg (about 112lbs)
Blood Type - AB
What she likes most about herself - Her eyes
Color - Red
Religion - Christian
Character - Active, tough but sometimes introspective
Ideal Career- Cable TV VJ, Model in clothes catalog
Motivation to be in Baby VOX - When she saw "It will be late tomorrow"
Dream in childhood - Dancer
Favorite Singer - Gunmo Kim, Sola Lee
Favorite foods - Beef dishes, ice cream, pasta dishes
Most precious thing - Her diary
Method to get rid of stress - Have time to herself
Ideal type of man - Pretty style, a cute guy
If she wasn't a singer, she'd be - A make-up artist

Eiji had been assigned the 'sexy' role in the group, although she doesn't see herself as sexy and as easy-going; not the usual celebrity type. As the leader, she maintained the neutrality in the team. She is very understanding and was an advisor, or mentor, to the members. She might have been one of the oldest members, but she has a young spirit. She claims she is very strong and overcomes most pain. She likes to be organized and keep everything neat.

LEE HEEJIN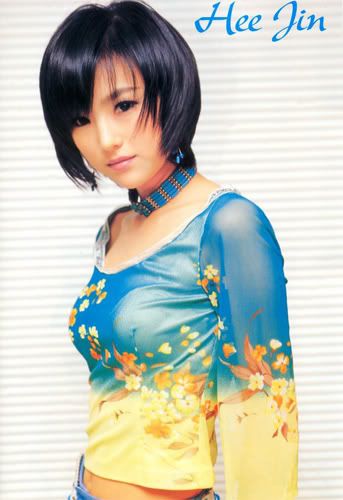 Full Name - Lee Heejin
Birthday - February 21, 1980
School Career - DongAh Broadcasting College
Family - Lastborn; parents, older brother
Hobbies - Watching movies or video tapes
Instrument - Guitar
Nickname: "ChamSae"(Sparrow")
What she likes most about herself: Mole on her nose
Color - Green
Specialty - Impressions
Favorite foods: All kinds of food except healthy foods!
Address - Seoul
Height - 168cm (about 5'5")
Weight - 44kg (about 96lbs)
Blood type - A
Religion - Buddhist
Character - Active and deep-thoughted
Career Goal - Appear in commercials (Gana chocolate, Ilyang Drug, Ggomo Drink...)
Motivation to be in Baby VOX - Persuasion by neighbor
Dream in childhood - To just live simply
Favorite Singer - Gunmo Kim, Jeonghyun Park
Most precious thing - Her voice
Method to get rid of stress - Always eat
Sleep habit - Sleep curled up
Ideal type of man - Natural style man
If she wasn't a singer she'd be - An ordinary student

Heejin had been assigned the 'sophisticated' role in the group, although she sees herself as more mild and femine. Heejin was the sweetest one in the group. Many people tend to judge her through her looks and assume her to hold a cold image, but that's 101% miconception. She has a rather wild side. And once Heejin goes into the bathroom, it takes her at least an hour to get out. She is very very organized. She's the type to start with organizing and end with cleaning.

SHIM EUNJIN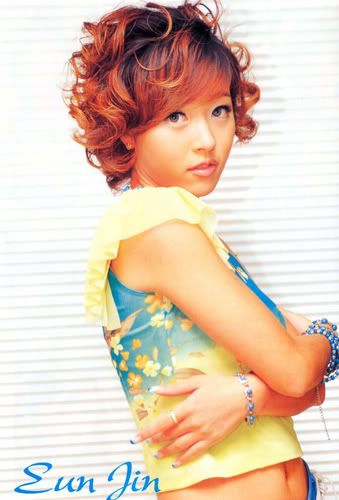 Full Name - Shim Eunjin
Birthday - February 6, 1981
School Career - KyungGi University
Family - Lastborn; parents and older sister
Hobby - Water ski, coffeeshops, watching movies
Instrument - Guitar
Speciality - Design
What she likes most about herself: Her eyes
Address - Seoul
Height - 168cm (about 5'5")
Weight - 49kg (about 108lbs)
Color - Blue
Blood type - A
Nickname - "SimTaeng", "Sim madam", "ShimYeoSa", "Chat Girl"
Religion - Christian
Character - Active but introspective, outgoing, tough
Career goal - Receive prize (for production) in Dongyang play
Motivation to be in Baby VOX - "Because I liked dancing and singing when a child."
Dream in childhood - To be a nurse, Mother
Favorite Music Category - Hiphop, ballad
Favorite Singer - Tonny Julackstone
Most precious thing: Her diary, her dog "MoongChi"
Method to get rid of stress - "Just sleep or just doing nothing a few hours in same pose."
Ideal Type of man - "Man has good feel and comfortable" or a man that's cute, good and not a player
If she was not a singer she'd be: An ordinary student

Eunjin had been assigned the 'boyish' role of the group. Eunjin tended to be the quietest member, but would speak out in front of the camera. Her features make her look mature, but her personality itself is mature and she's deep and has a lot of feelings. She's currently trying to fix her habit of speaking thickly(?) and giving short answers. But she's probably the one in the group with the most perfected face. Especially, her eyes and her nose are a masterpiece, often mistaken for fakes (plastic surgery).

KAN MIYOUN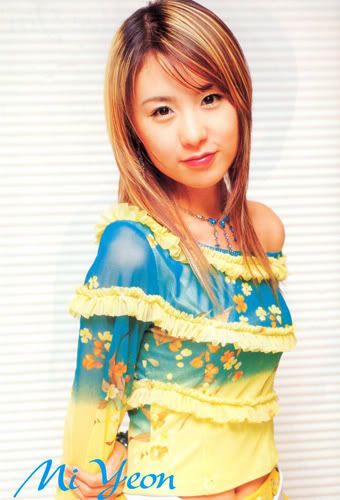 Full Name - Kan Miyoun
Birthday - February 2, 1982
School Career - KyungGi University
Family - Lastborn; parents, older brother
Hobbies - Listen to sad songs, Read a collection of poems, snacking
Instrument - Bass Guitar
Color - Purple
What she does well - Playing around in a sweet and lovely way
Favorite foods - Anything edible
Address - Seoul
Height - 170cm (about 5'5"-5'6")
Weight - 47kg (about 103lbs)
Blood type - O
Nickname - "MoGiBap"(Mosquito food), Smurf
Religion - Atheist
What she likes most about herself - Her long eyelashes
Perfume - Lpagenzo, Burbury, CK, SOLO
Sleep habit - Do pretty model pose
Forte - Making charms
Motivation to be in Baby VOX - Wanted to just sing a song
Dream in childhood - To be a wonderful wife
Favorite color - Black, White, Pastel tones
Favorite Actress - Wooseong Jeong, Leonardo Dicaprio
Favorite Singer - Jeonghyun Park
Most precious thing - Her fans
Method to get rid of stress - Laughter
Motto - "When I decide to do something, I do it."
Characteristic - Dreamer, happy, a "spender"(spends money)
Ideal type of man - A gentle man and a hero in Cinema
If she wasn't a singer, she'd be - A coordinator

Miyoun had been assigned the 'princess' role in the group, although she thinks of herself as simple and easy going. Miyoun, unlike Kim Eiji who works fast, slowly gets things done. But she was the sleepyhead in the group and eats anything people give her. She has the unusual ability to pose like a model in her sleep.

YOON EUNHYE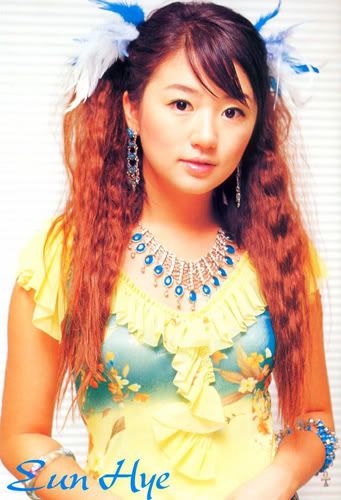 Full Name - Yoon Eunhye
Birthday - October 3, 1984
School Career - JoongKyung High School
Family - She's the eldest; parents and a younger brother
Hobby - See a film, writing letters, taking pictures
Color - Pink
Speciality - Art, drawing animations
Address - Seoul
Height - 168cm (about 5'5")
Weight - 48kg (about 106lbs)
Bloodtype - O
Nicknames: "JamGgoDae"(Stick),"Pooh"
Favorite foods: Ice cream, pizza
Personality: Outgoing, simple
What she likes most about herself: Her eyes
Most precious thing: Diary, cell phone
Ideal Man: A cute, good, handsome man
Career goals: To appear in many commercials and magazines
If she wasn't a singer she would be: And ordinary student

Yoon Eunhye had been assigned the 'baby' role of the group. While she played this role as part of the group, she feelt that she is much more mature.

ALBUMS

FIRST


Date of Release: July 15, 1997

1. Interlude
2. Muh Ri Ha Neun Nal
3. Namja Eh Ge
4. Start
5. Geu Deul Man Ei Se Sang
6. BiMihl
7. Mi Hon Mo
8. Waiting
9. Namja Eh Ge (Instrumental)

SECOND


Date of Release: September 24, 1998

1. Ya Ya Ya
2. Break it Up
3. Pae JaBooHwalJun (Peja Easter)
4. Waiting
5. Change
6. Sugar Baby
7. Top of the World
8. Ya Ya Ya Remix

THIRD


Date of Release: July 15, 1999

1.Intro
2.Get up
3.Missing You
4.Killer
5.Flower Print Bikini
6.Sarang Hae Yo
7.Mask
8.Love with the Heavens
9.Summer story
10.Woo Suh Yo
11.Love and Ecstasy
12.Get up-MR

FOURTH


Date of Release: June 1, 2000

1. Why
2. Baeshin
3. Hwae Sang
4. Huh Rak
5. Overlap
6. Lux
7. From a Sad Star
8. Bad Boy
9. Trap/Oragami
10. Before Sunrise
11. Patron
12. Why-MR

FIFTH



1. Intro
2. Game Over
3. In Hyung
4. Nae Sarang Igireul
5. Cut
6. Lucky 7
7. Budi
8. Kakkai
9. Come To Me
10. To.Angel
11. Puzzle
12. The One
13. Go Go, No No, So So
14. Mahjimahk Suhnmool
15. Game Over (MR)
16. Outro

SPECIAL


Date of Release: April 24, 2002

1. Oo Yon
2. Go

SIXTH


Date of Release: April 3, 2003

1. Na Uttukhae (What Can I Do)
2. Baraem (Devotion)
3. Seul Peun Gi Dae
4. Sang Chuh
5. Sarang Een Ga Bhwa Yoh
6. Na Rulh Jah Bah Joh
7. Loveless
8. Nun Mool
9.Guh Jit Sarang
10. Buh Lyuh Jin Ee Byul
11. Mah Ji Mahk En
12. A.S.A.P (As Soon As Possible)
13. Oo Yon (Deep Club Remix)
14.I'm Still Loving You

SEVENTH


Date of Release: April 16, 2004

1. Intro
2. Xcstasy (English ver)
3. Xcstasy (Korean ver)
4. Xcstasy (Remix ver)
5. Play (English ver)
6. Play (Korean ver)
7. Play (Extended ver)
8. The First And Last
9. Move Your Body
10. I Want You Back
11. I'm Still Loving You (Chinese ver)
12. Go (Japanese ver)
13. O.S.T (Father & I)

Baby VOX had many, many other releases. If you would like information on those, please PM me.