[MBC] Lee Jun Ki, Yoon Soy, Uhm Ki Jun, Shin Ju A, Baek Yun Sik
Date of Airing : 18th Nov 2009
Official Site : http://www.imbc.com/broad/tv/drama/heros/index.html
Writer : Kwon Ki Young
PD: Kim Kyung Hee
Actors/Actresses :
Lee Jun Ki, Yoon Soy, Uhm Ki Jun, Shin Ju A, Bbaek Ka, Lee Han Wie, Ji Chang Wook, Jung Soo Young, Baek Yun Sik
Story : About crimes & fraud - Lee Jun Ki will be playing the main lead "Jin Do Hyuk" 진도혁, a reporter who is smart and clever enough to make anything he wants successful but he later choose to live a life of despairs and fallen when the woman he loved most, dies. But he finally came back to his senses one day and decided to start a new life by helping and protecting weak and kind-hearted people who are victims of criminals by gathering a group of (faulted) people together to fight against the unreasonableness, non-ethical and senselessness crimes of the world.
===================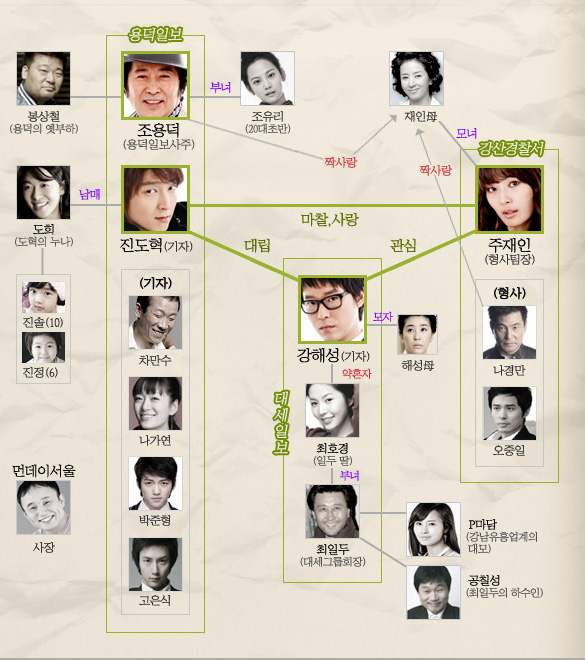 Cast

"Jin Do Hyuk" 진도혁(Lee Jun Ki) is a third-rated reporter who wishes to be a famous reporter like his late father eversince he was young. Although he is good in his studies during highschool, he couldn't make it to the first-rated colleges due to the death of his father and the burdens brought upon by his immature elder sister. He joins the news agency owned by a former mobster head, Jo Yong Duk who was one of his interviewees after the agency he formerly works for became bankupt. Since then, Jo Yong Duk becomes a father-like figure to Do Hyuk who is determine to fight against the unreasonableness, non-ethical and senselessness crimes committed by the 'un-touchable' people of the higher society. Do Hyuk crosses path again with Kang Hae Sung, his rival since highschool and gets into a triangular love relationship with him again with the arrival of Joo Jae In, a female cop.




"Joo Jae In" 주재인 (Yoon Soy), a female cop who gets emboiled into Do Hyuk's schemes by fate. Like Do Hyuk who is following his late father's path to become a righteous reporter, Jae In chose to become a cop like her late father. Although she and Do Hyuk got on the wrong foot with each other when they first met, their relationship got better when they found out that they were fighting for the same cause and people. Although Jae In is attracted to the elite reporter "Kang Hae Sung" at first, she found that her feelings are often swayed to the side of Do Hyuk whenever both men got into arguments or fights. She is currently living with her mom who is the first love of Do Hyuk's mobster boss.




"Kang Hae Sung" 강해성 (Uhm Ki Jun), the political reporter who has outstanding ability and a cold appearance. He has been Do Hyuk's rival eversince their highschool days, he knows what he needs to climb the society leader and is willing to make use of anything and anyone to get a step higher. Hae Sung is currently engaged to Lee Ho Kyung, the daughter of the newspaper agency Chairman whom he is currently working for after snatching her away from Jin Do Hyuk even through he doesn't really love her at all as he needs her as a stepping stone in his career. But his beliefs and heart began to wavier with the appearance of a clumsy female cop, Joo Jae In. He wasn't interested in her at first although he knows that she is attracted to him, but as time goes by, he becomes jealous and uneasy over her growing relationship with Do Jin.




Jo Yong Duk (Baek Yun Sik) is a former mobster boss who has just been released after spending 15 years in jail after being betrayed by one of his followers. He is looked down upon by his daughter 'Yuri' who wants to have nothing to do with him because of his past crime records. Yong Duk recruited Do Hyuk into his news agency after he lost his job and became a father-like figure to Do Hyuk eversince. Unknown to most of his family and people around, Yong Duk is actually planning to take revenge on the person who had betrayed him 15 years ago.
================
Must Read!!
01.Soompi code of conduct
02. Never upload the vids or subs on any illegal streaming sites like MySoju, DramaCrazy, etc..
03.
Pls do not ask nor request for any uploads of any vids nor subs. All the links will be posted out when the subbing team or uploaders are ready. A time delay rule of subs and vids will be imposed if anymore of these type of requests are seen on this thread (Uploading and subs will be delayed to a much later time than usual).

Time is needed for the uploaders to upload and for subbers to complete their subbing process. And these doesn't appear like magic with a snap of finger or whenever you want them! Be considerate to the uploaders and subbers who are sacrificing their free time and money to sub and upload for us!
04. Never request for subs nor vids as they will always be up when the subbers/uploaders have completed.
05. Never quote nor hotlink any pics from this thread as the pics will never show up again after the bandwidth runs out.
06.No permission was given to DramaCrazy nor MySoju to encode/take/stream any subs from Haru2subS. These sites are never involved in of any part of the subbing process!!
================
============
Links
AJA-AJA link (RAW+OST)
Cute girl's BT links (RAW)
Rating chart (credit d-addicts)