Daebaksubs: Is this really goodbye?
For all the fans of Korean variety shows, I am sure that you have visited the site of Daebaksubs to watch English-subbed variety shows. And for those who are not familiar with the site, Daebaksubs is a place where we can watch a lot of variety shows. Daebaksubs subbed majority of the variety shows that is being shown in Korea like Daddy, where are you going?, Running Man, etc.
I am a non-Korean speaker and my knowledge of the Korean language is limited, so I heavily rely on subbing sites for my variety show fix. So expect the shock when yesterday as I click on their address on my bookmarks and an error was found.

It was the saddest day of my life as I found out that Daebaksubs was shutdown by removeyourmedia.com as what they have stated from their facebook page

And today. Daebaksubs staffs left their final message.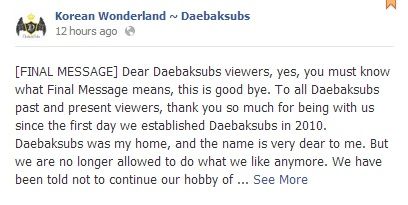 Chingus, I am really down now.

:(

#justsharin
[always give credit where credit is due]

Who's Online in this Forum

0