[MBC] Lee Jin Wook, So Ee Hyun, Kim Sung Min, Jung Ae Yun
MBC's Sunday drama replacing Auction House, starts on 6th Jan 2008, every Sunday at 11:40 pm.
PD : Kim Min Sik 김민식, Kim Sang Hyeop, Kim Do Hyeong
Scriptwriter : Suh Eun Jeong 서은정, Kim Mi Jin, Kim Su Jin
Cast : Kim Sung Min 김성민 (Couple or trouble), So Ee Hyun 소이현, Lee Jin Wook 이진욱 (Love Age, Smile Again, Someday, Air City), Jung Ae Yun 정애연
Official Site :
http://www.imbc.com/broad/tv/drama/bna/index.html
Official English Site :
http://content.mbc.co.kr/e_mbc/drama.asp?idx=391
To view episodic preview,
http://www.imbc.com/broad/tv/drama/bna/preview/
Viet-subbed link :
http://www.iuphimhan.com/sarang/index.php?showtopic=8752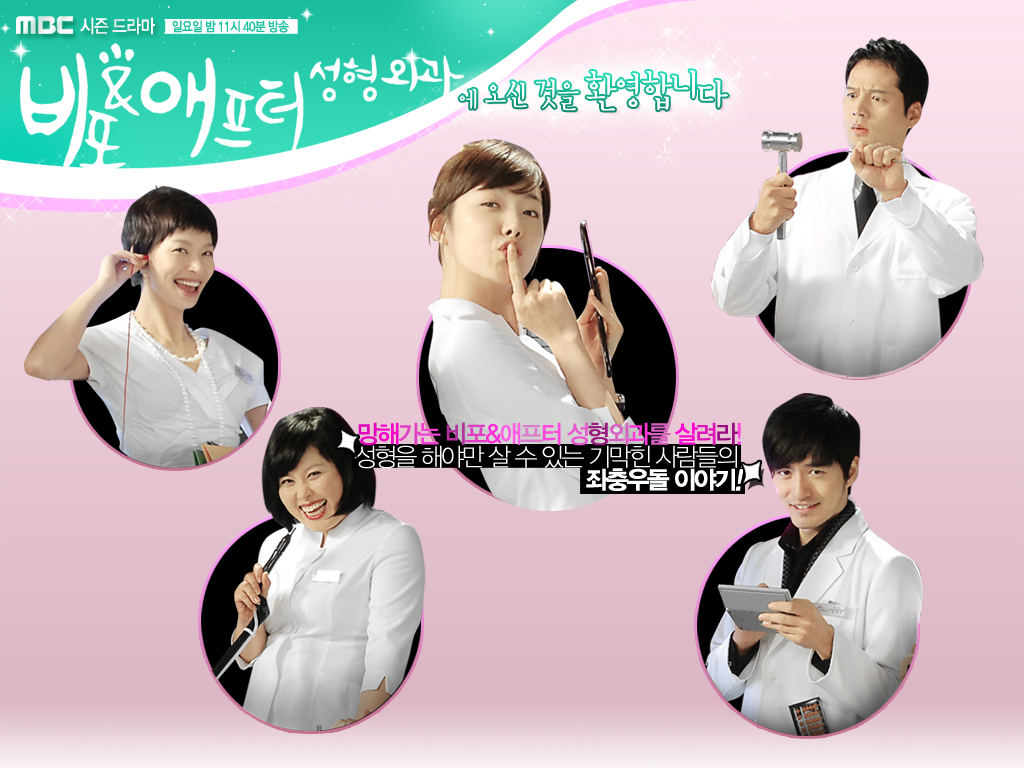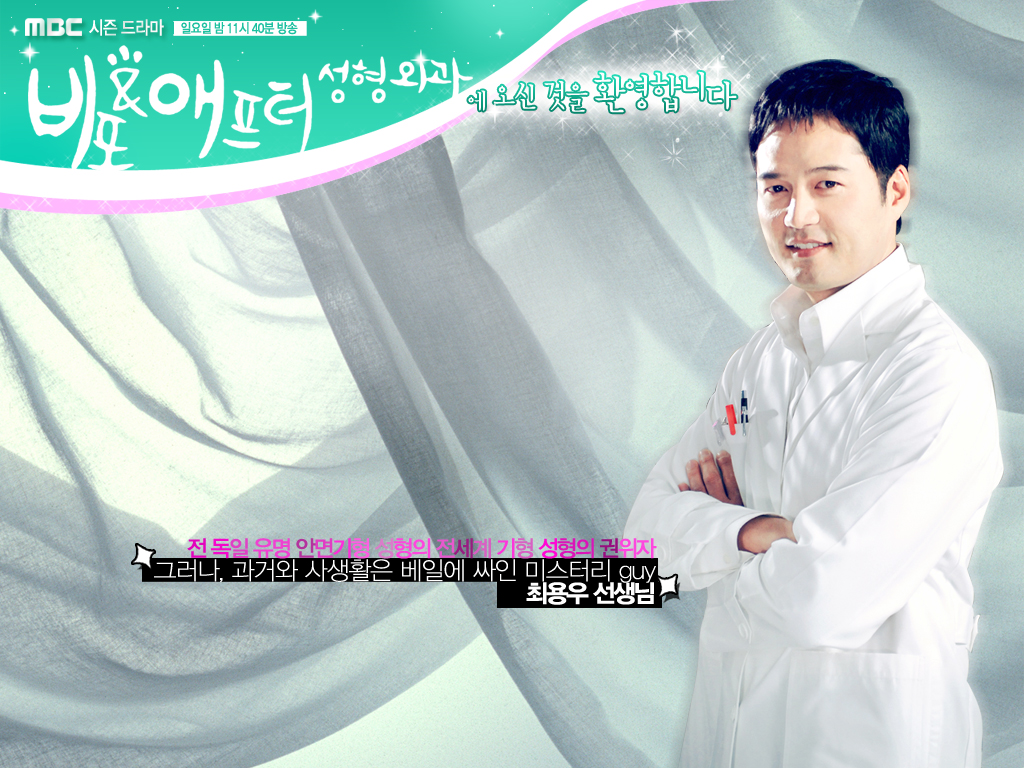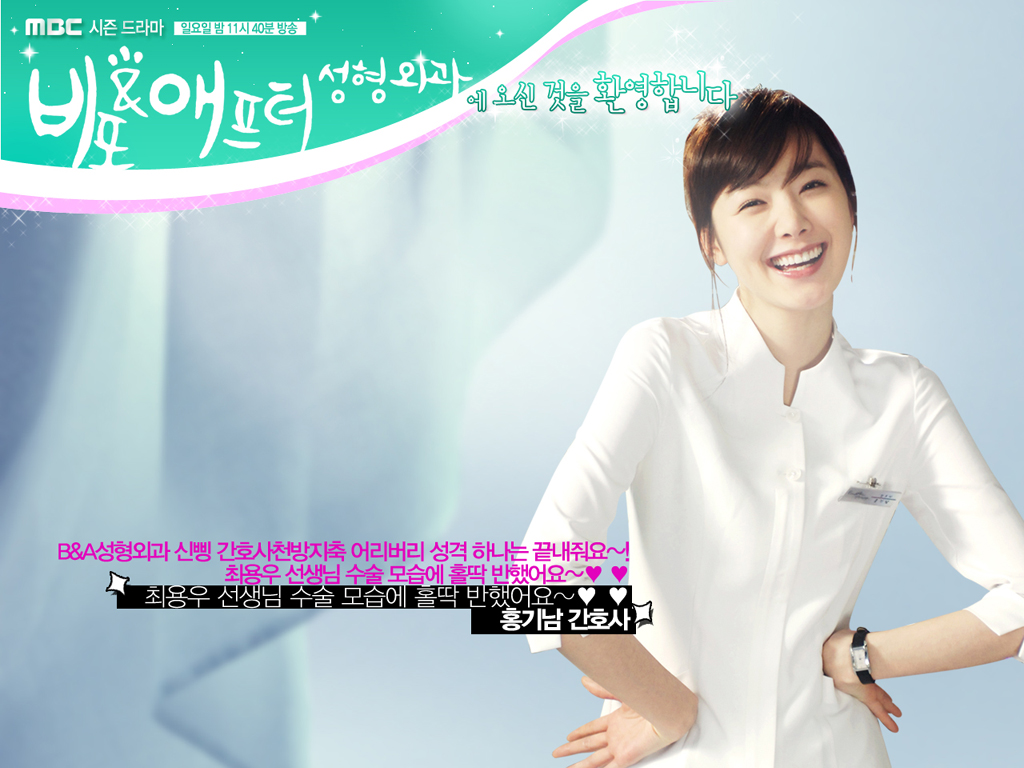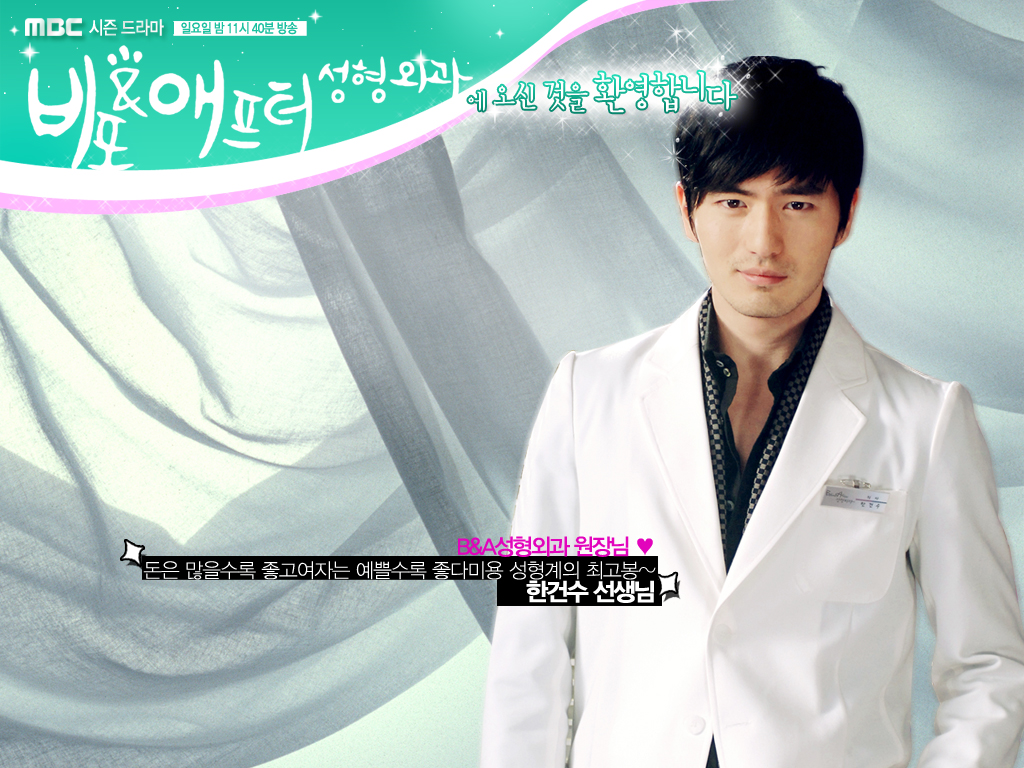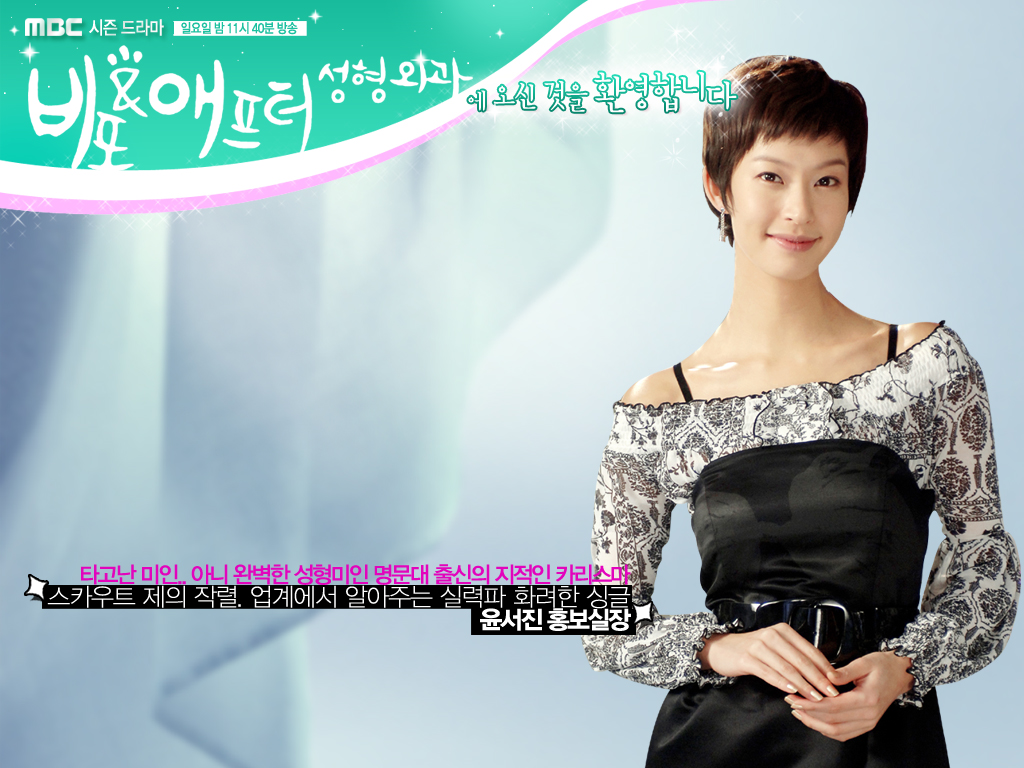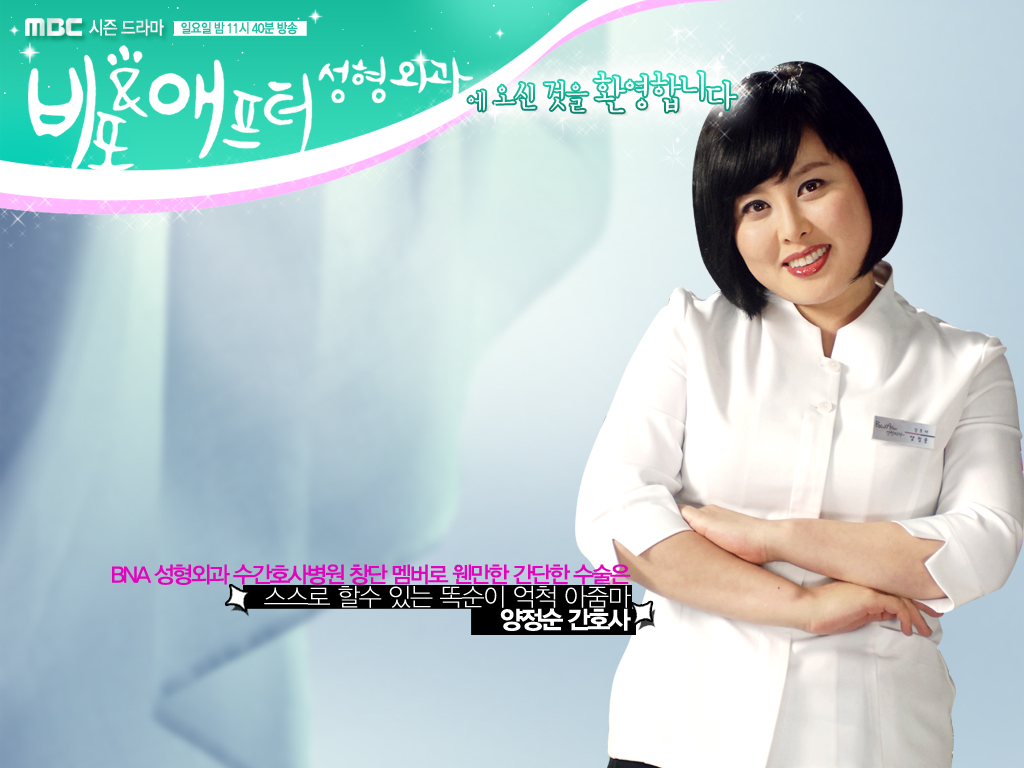 QUOTE
SYNOPSIS
A medical drama centered around plastic surgery with a target viewer audience consisting of females in their twenties and thirties. Perhaps this drama can also be described as a social satire commenting on the current boom in plastic surgery in Korea.



What kind of stories do people who seek plastic surgery have to tell?



What kind of lives and personal relationships do doctors and nurses at a plastic surgery clinic have?



Although "Before & After" touches upon a popular Korean trend, plastic surgery has never been the main theme in a Korean TV drama before. Delivering comical and touching moments interspersed within stories of people seeking plastic surgery for a variety of reasons, the drama will bring laughter and tears to viewers as they reflect on the growing popularity of plastic surgery among Koreans.



The stories of people who seek a plastic surgery clinic and the kind of love and work that a medical staff faces in their lives are brought together in this situational drama.
Hong Ki-nam (age: 24 / B&A Plastic Surgery Clinic, nurse) – actress So Lee-hyun
Graduated from a 2-year nurse college. She believes that personal and business relationships are very important in life. Her mother is a hairdresser while her father, who is jobless, is addicted to gambling. She has two other siblings and grew up in a happy family. She stays positive even under the most difficult circumstances. Oddly, she hates receiving help from others and will always repay anyone who ever lent her any assistance. She's not keen about staying neat and well-groomed and it shows. She lives at Geon-su's home rent-free while telling her family that she's living at a dormitory provided by the clinic. Geon-soo always outsmarts her. At the clinic, Nurse Yang, who oozes with sophistication even among the rich and powerful people in Cheongdam-dong, always takes advantage of her. While watching Doctor Choi Yong-woo operating on a patient, she is charmed by his looks and smitten with love. She is too shy to approach Yong-woo whom she secretly admires...
Han Geon-soo (age: 32 / Specialist in cosmetic surgery, Head doctor of B&A Plastic Surgery Clinic) – actor Lee Jin-wook
Graduates from Seoul National University's medical school. He believes that it doesn't hurt to make as much money as you can and date the prettiest girl you can find. As the only son of the late Dr. Han, the most eminent plastic surgeon in the medical field, he was born with a sharp intellect and had a comfortable upbringing. He never experienced failure in his life. Moreover, he has a keen sense of what is beautiful and his reputation as a skilled plastic surgeon grew during his internship. But the unexpected death of his father puts his father's clinic in financial trouble as a private moneylender demand repayment. On top of these troubles, the nurses and doctors he hired to rescue the clinic's fortunes turn out to be a handful as they constantly challenge his authority. He gradually becomes attracted to the unsophisticated and ugly Hong Ki-nam who is unlike any of the stunning girls he dated before...
Choi Yong-woo (Specializes in deformities, Former medical staff at a German hospital that is famous for correcting facial deformities) – actor Kim Sung-min
He is more interested in the field of corrective surgery that treats patients with deformities rather than cosmetic surgery. He has a cynical view on the boom in cosmetic surgery. Not only does he sparingly talk about himself, but he also avoids social interaction and personal relationships. Being lonely most of his life, he finds satisfaction when he studies. He discovers his true calling when he meets Dr. Han while he was in high school and so decides to become a doctor who specializes in reconstructive surgery. To repay his debt to Dr. Han, he chooses to help Dr. Han's son, Geon-soo, but it turns out to be difficult to get along with him.
Yoon Seo-jin (age: 28 / B&A Plastic Surgery Clinic, PR director) – actress Jung Ae-yeon
Born with beautiful looks that were enhanced with plastic surgery, she has a flawless face. She graduated from an elite college and has a fine reputation in the plastic surgery field. She's a perfectionist who strictly adheres to her daily appointments without the slightest deviation. She abhors doing nothing at work. Most of the time she rarely makes any mistakes or has any embarrassing moments except when Hang-joon is around. Hang-joon is always in the same room when she makes mistakes such as farting out loud. After work, she studies in a master's degree program and also attends social gatherings to enjoy the high life. After experiencing a painful breakup with a boyfriend in college, she made up her mind to make the first move in approaching someone she likes. Her mother passed away when she was young and so she shares a common background with Geon-soo, who rarely saw his father, who was always too busy to spend any time with him.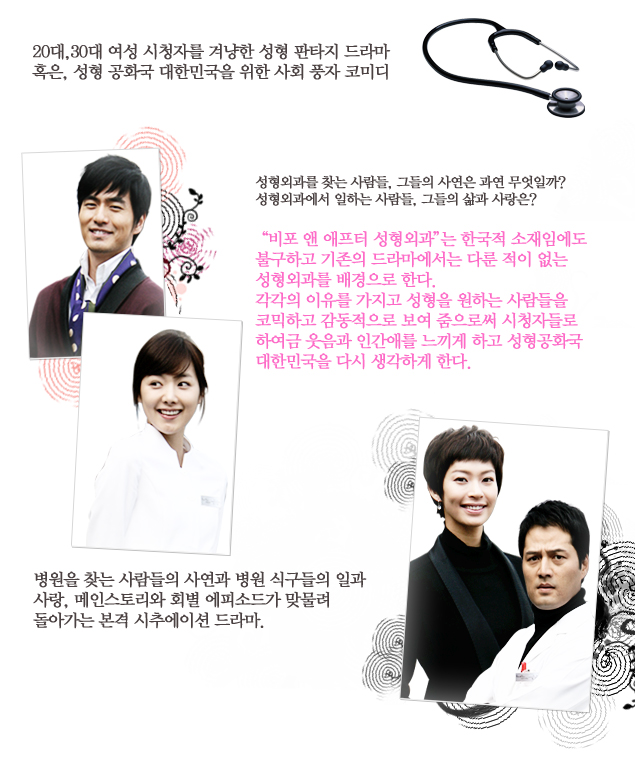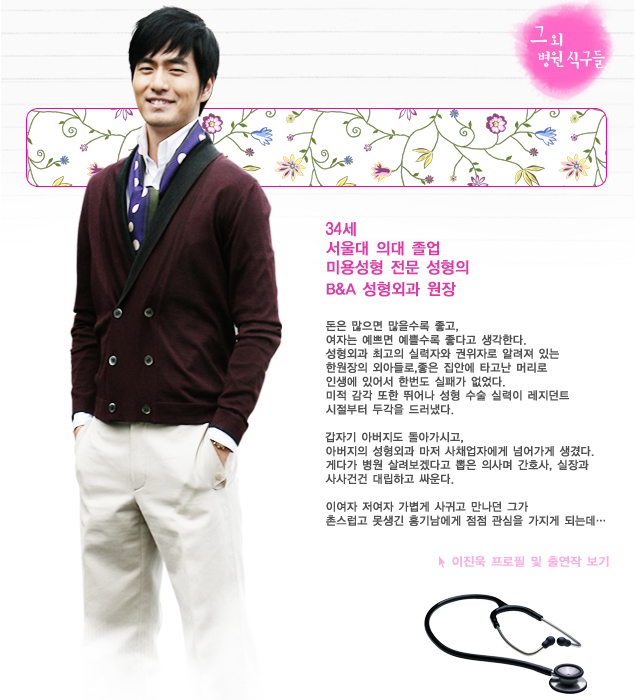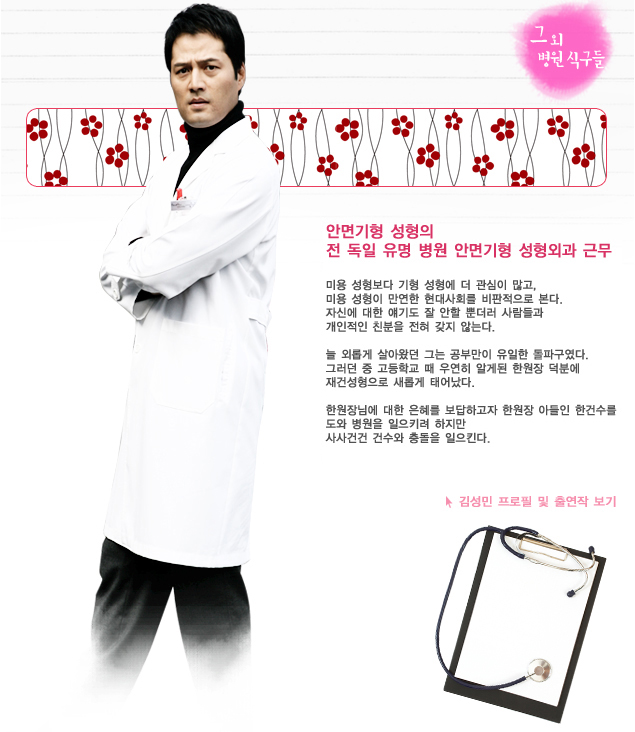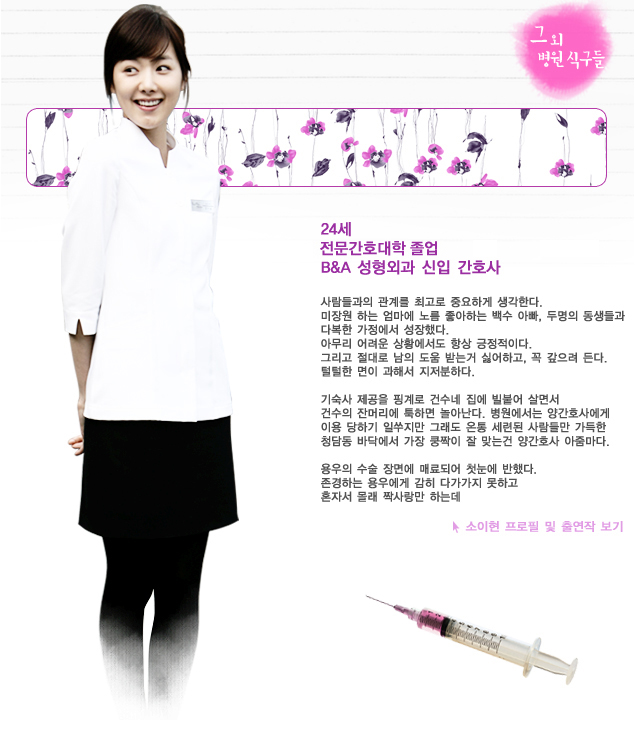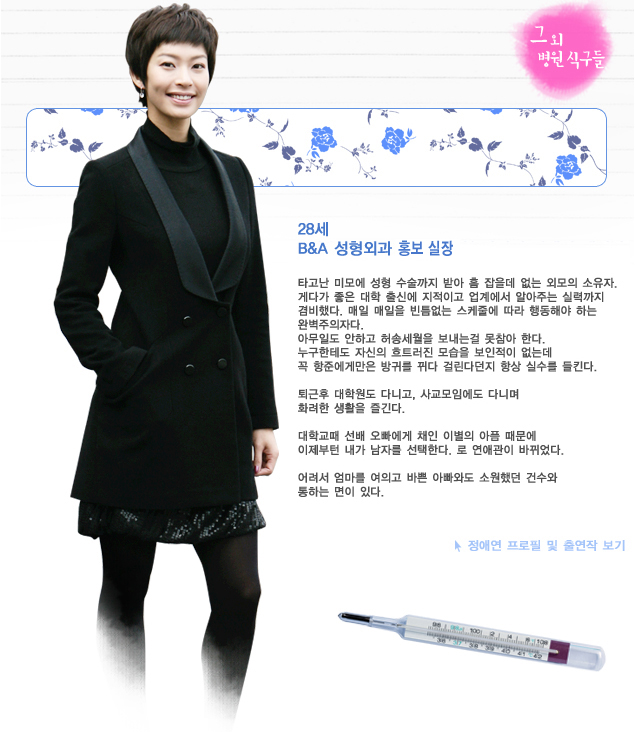 OST :
http://www.imbc.com/broad/tv/drama/bna/ost/
http://listen.daum.net/info/albuminfo.asp?...mp;albumNo=4082
01 Ugly Man
02 You Are Beautiful
03 바라보기
04 야야야
05 Hey! Everybody
06 Oh! Doctor
07 Anything You Need
08 네가 있으면 좋겠다
09 너의 곁에서
10 Before And After
11 Change
12 Dream Girl
http://daumbgm.nefficient.co.kr/mgbdamu/A0...00140826401.wma
http://daumbgm.nefficient.co.kr/mgbdamu/A0...00140826402.wma
http://daumbgm.nefficient.co.kr/mgbdamu/A0...00140826403.wma
http://daumbgm.nefficient.co.kr/mgbdamu/A0...00140826404.wma
http://daumbgm.nefficient.co.kr/mgbdamu/A0...00140826405.wma
http://daumbgm.nefficient.co.kr/mgbdamu/A0...00140826406.wma
http://daumbgm.nefficient.co.kr/mgbdamu/A0...00140826407.wma
http://daumbgm.nefficient.co.kr/mgbdamu/A0...00140826408.wma
http://daumbgm.nefficient.co.kr/mgbdamu/A0...00140826409.wma
http://daumbgm.nefficient.co.kr/mgbdamu/A0...00140826410.wma
http://daumbgm.nefficient.co.kr/mgbdamu/A0...00140826411.wma
http://daumbgm.nefficient.co.kr/mgbdamu/A0...00140826412.wma