Do you have what it takes to be a Soompi Moderator? APPLY NOW!
W H A T . D I D . Y O U . B U Y . T O D A Y ? [B&F Related Items ONLY!]
beauty and fashion related items ONLY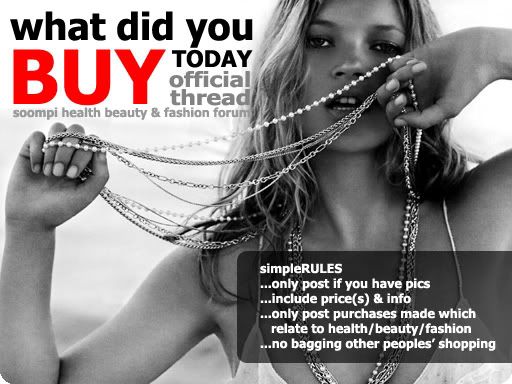 Post purchases ONLY ONCE.
Learn to use the PM function.
Hello ppl, just to make sure that this is not another version of the pinned thread or the what did you wear today thread / your fashion thread, pls ABIDE TO THE POSTER'S RULES - keep all posts included with images on most recent purchases and not looking for opinions or suggestions. DO NOT RESERVE POSTS. and please make sure you state where u bought them so that we don't get numerous posts asking where they were purchased, thanks peeps. comments about the purchases are ok, but pls no convoing.
Who's Online in this Forum

1