What Is Wrong W/ My Nail?
its so embarrassing
I don't know why but about 2-3 weeks ago, my nail started to grow out weird ... like its surface is not smooth anymore ... its just really bumpy ... and I dunno whats wrong w/ me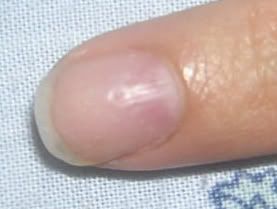 sorry for bad pic ... u can't really see it well ... but its like bumpy all over my nail .. so scary !!! i'm freaking out
have ne1 got this problem be4??? what should i take to make it go away?
Who's Online in this Forum

0