E=MC2/ Mariah's Latest Album Out Now!!!
Okay I was never really a big Mariah fan, but she makes incredible songs and she achieved alot.
So here goes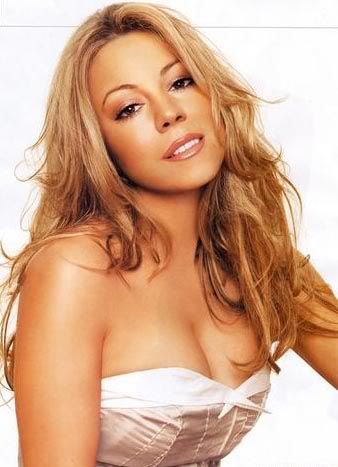 Mariah Carey was born on March 27, 1970, in Long Island, New York, to parents Patricia and Alfred. Unfortunately, her parents divorced when she was only three years old. As a result of her Irish/African-American/Venezuelan descent, Mariah encountered some racial violence while growing up.
Mariah was raised in a poverty-stricken home and her mother was forced to work multiple jobs in order to make ends meet. Conveniently enough, it was Mariah's mom that noticed her daughter's vocal talents. One day, when Patricia was rehearsing her role of Maddalena in Verdi's Opera Rigolettos, she heard Mariah imitating her singing. Even though she was only three at the time, Mariah's mom began teaching her how to develop her vocal skills.
In high school, Mariah didn't concentrate much on her education and would frequently skip classes, and instead write songs and dream about becoming a famous singer. Before she got her big break, Mariah completed 500 hours of beauty school and even worked as a hair sweeper in a salon, a waitress and a coat check girl.
After she graduated from high school in 1987, Mariah moved to New York in order to pursue her dream of becoming a famous singer. She spent hours working in a studio writing her music and making demo tapes.
In 1988, one of Mariah's friends, who played the drums for Brenda Starr, urged her to sing as a backup singer. Although Mariah was a little hesitant at first, she quickly realised that it was better than what she was doing at the present time.
One day, while Mariah was singing for Starr, Sony record executive producer Tommy Mottola was given Mariah's demo tape and her wish of becoming a singer was soon realised.
Mariah's first self-titled album uncovered a high-octane voice that could break sound barriers, as well as record sales. Being able to match Whitney Houston's vocal range, Mariah quickly racked up as many song records as Anita Baker.
Although people initially labelled her as a "white girl with a black girl's voice", Mariah quickly squashed all the hearsay and set the records straight. Nevertheless, all the media-hype ultimately contributed to her selling over six million albums.
She landed at number one with two of her songs, winning a bunch of Grammys, and her following two albums Emotions and Unplugged were just as successful.
In 1993, Mariah wed Tommy Mottola, the man who discovered her. Her wedding was so elaborate that she looked like Cinderella from the Disney classic. Media hounds were quick to criticize the age difference between the couple (Tommy is 20 years older than Mariah).
Once she was a success, Mariah quickly got involved with the cause of inner-city youth, donating large quantities of time and money to what would be renamed "Camp Mariah." The camp is a refuge for urban youth who rarely get the chance to experience nature, so needy children were introduced to a world that they may otherwise never have encountered.
In 1993, Mariah's fourth album, entitled Music Box, and fifth album, Merry Christmas, burned up the charts just as strongly as did her other albums.
In 1995, Mariah released Daydream , which earned her six Grammy nominations and began to uncover a Mariah that the world had never seen before. Rumors began circulating that Mariah was a prisoner in her own $10 million mansion.
Mariah began to develop a hip-hop feel in her music and began frequenting other hip-hoppers like Da Brat, Ol' Dirty Bastard and X-scape. At the same time, Mariah's music started gaining popularity in clubs and her fan base began to consist of everyone from teenage girls to the adult population.
Mariah quickly became one of the most powerful women in the music industry, with career sales topping 80 million units. Throughout 1997, Mariah watched her professional image evolve, even though her marriage to Tommy took a turn for the worst.
Although they denied the rumors of marital problems, Mariah released Butterfly, in which the first single's video depicts Mariah as a captive in a palatial estate. This video only fuelled the fire of rumors surrounding the couple's marriage. They ultimately divorced in March of 1998.
Since the divorce, Mariah has released another album entitled Rainbow and if you listen closely, you can hear her singing to Tommy in some of the songs.
Mariah Carey's star has risen to epic proportion and she is a diva extraordinaire. She rose from poverty and took her talents to the top of the charts with her dedication and hard work.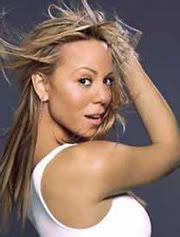 Discography
Mariah Carey (1990) - A savvy mix of updeat dance songs and smooth silky ballads introduced Mariah Carey to pop and r&b audiences. This collection topped the pop album chart and spawned an incredible 4 #1 hit singles including "Love Takes Time" and "Vision Of Love."
Emotions (1991) - Artistically, this album is possibly even stronger than the first. Commercially it only reached #4 on the album chart, but the title song continued her streak of chart-topping singles to 5. Other Top 10 singles from this album were "Can't Let Go" and "Make It Happen."
Music Box (1993) - Mariah Carey lightened up a bit on the intensity of her 5-octave range vocal flights on this album. The result was a second #1 hit album and a massive hit single with the chart-topping "Hero."
Merry Christmas (1994) - At the peak of her commercial success, Mariah released a holiday album that is one of the bestselling Christmas albums of the past decade. It reached #3 on the album chart and includes the instant classic "All I Want For Christmas Is You."
Daydream (1995) - This album is Mariah Carey at her artistic and commercial peak. The album topped the charts and the single "Fantasy," featuring a Tom Tom Club sample, debuted at #1. The collaboration with BoyzIIMen on "One Sweet Day" spent an incredible 16 weeks at the top of the pop singles chart.
Butterfly (1997) - The first album after Mariah's breakup with her husband Tommy Mottola. There is less dance music and more of a sultry, slow-burn atmosphere. Big hits included "Honey" and "My All."
# 1's (1998) - This greatest hits collection is a good picture of Mariah Carey's phenomenal chart run in the 1990's. 12 #1 pop hits are here along with some new tracks released just for this album including "When You Believe," a duet with Whitney Houston.
Rainbow (1999) - Most notable for being the first major Mariah Carey studio album since 1991's Emotions to fail to reach the top of the album chart, this collection is a bit too formulaic. That didn't stop "Heartbreaker" from being yet another smash single.
Glitter (2001) - Audiences waited for 2 years and a new $80 million contract with Virgin Records to see this unexpected disaster take place. The album is the soundtrack for Mariah's first film appearance, and it is difficult to tell which, the movie or the music, is the bigger failure. "Loverboy" did well on the single charts, but followups failed miserably and the album limped to #7 on the album chart.
Mariah Carey's Greatest Hits (2001) - A two-disc greatest hits collection pasted together after Mariah Carey left for Virgin Records to attempt to capitalize on her past hits.
Charmbracelet (2002) - Following the Virgin Records debacle, Island Def Jam signed Mariah and rush-released this collection with little success. The album debuted at #3 but sank quickly as the single "Through the Rain" barely made a dent on the pop chart.
The Remixes (2003) - A key part of Mariah Carey's success in the 1990's was her popularity in dance clubs. This album is an extensive collection of dance remixes of many of her classic hits.
The Emancipation Of Mimi (2005) - By 2005 many had written off Mariah as a sad has-been which makes this album all the more remarkable. On the heels of a strong publicity buildup she surprised everyone by debuting at the top of the pop album chart with the biggest opening week sales of her entire career. "It's Like That" and "We Belong Together" are the hit singles.