TOP's

Alive Hat

DIY
I really want all their accessories, but I can't afford them. Therefore I decided to make myself some replicas of their cute stuff. Here's TOP's hat!!
Example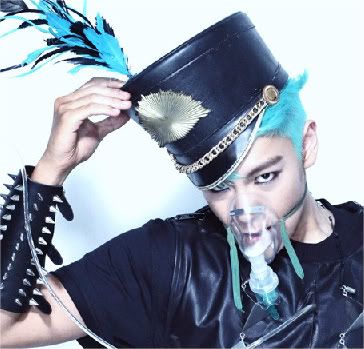 Materials:
Black clay, gold clay (or mix of clay), pliers, screw eyes, aluminum, exacto knife, brush, gloss, glitter.
Process:

Step 1: Gather some black polymer clay, roll into a ball.
Step 2: Flatten clay; To make the base of the hat, make a little circle and set it aside.
Step 3: Gather some more black polymer clay and make it into a ball.
Step 4: Flatten it. Using the exacto knife, cut into a rectangle.
Step 5: Make the rectangle a little thinner.

Step 6: Attach the rectangle to the base [little circle].
Step 7: Blend in the edges of both pieces as much as you can.
Step 8: Using left over clay make half a circle.
Step 9: Attach the "half a circle" piece onto the hat.
Step 10: Grab more clay to begin the chain and the decorations. (I don't have gold looking clay so I mixed)
Step 11: Make this gold wad of clay into a ball.
Step 12: Apply some yellow/gold glitter to make it sparkle.
Step 13: [not shown] Make a little circle for the decoration and attach onto the hat like on the picture.
Step 14: Roll out a thin little strip of the gold clay.
Step 15: Attach onto the cap of the hat and on top of the cap to resemble the chains. Blend it in as much as you can.

Step 16: Make 2 little circles and attach at the end of the "chains".
Step 17: Add as much detail as you can to the gold decorations.
Step 18: Grab blue and black (I used white) clay for the feathers.
Step 19: Attach the feathers onto the top of the hat.
Step 20: Dig in a little silver screw eye, pinning down the feathers as well to secure them in place.
Step 21: Bake the hat according to the instructions on your clay wrapper on the aluminum foil.
Step 22: Apply gloss if desired with brush. Use pliers to grab the screw eye while applying the gloss.
Step 23: Use as a cellphone charm, earring, or as a miniature decoration for your room!
Note:
My hand was extremely shaky. I wanted to do GD's King Hat but I don't know what it looks like from the back or from the right side. Anyways I had fun doing this. I hope you guys like my DIY tutorial. It looks better when it's not on a pic.. the camera catches every single little detail.. It makes me feel kinda bad hahaha.