[MBC] Ahn Jae Wook, Nam Sang Mi, Son Dam Bi, Lee Pil Mo
Date of airing :
Mon~Tue - 9:55 p.m korean time (28th nov'11 ~ )
Official MBC site :
http://www.imbc.com/broad/tv/drama/lichtundschatten/
Official MBC English site :
Eps:
50
Scriptwriter:
최완규 Choi Wan Gyu
PD:
이주환 Lee Joo Hwan
Production company:
케이팍스 K-Pax Production
Main Leads :
Ahn Jae Wook, Nam Sang Mi, Son Dam Bi, Lee Pil Mo
Supporting cast :
Park Won Suk, Jeon Gwang Ryul, Lee Jong Won, Sung Ji Roo, Jun Guk Hwan, Shin Da Eun
Kim Mi Kyung, Seo Seung Man, Kim Dong Gyun, Son Jin Young, Ahn Gil Kang, Lee Se Chang, Kim Hee Won, Ryu Dam, Ha Jae Suk, Lee A Yi
Guest stars / Child artistes :
Story :
The life story of Kang Ki Tae (Ahn Jae Wook), the first national entertainer for soldiers in war fields starting from the 1960s during the Vietnam War to his life in the present time. His fate which entangles him with the love of two women who works in the same agency with him. Ki Tae has to deal with his problems in his family, love life while going heads on with his life-long rival Cha Soo Hyuk (Lee Pil Mo).
"Lee Jung Hye" (Nam Sang Mi) harbours the dream of being an actress but through fate she gets involved in a trianglar love with Yoo Chae Young, a newbie singer when both of them falls for Ki Tae.
Jang Chul Hwan (Jeon Gwang Ryul) one of the most powerful politician in 1960s uses his influence to help push the popular wave of the entertainment world and used it towards his own advantage.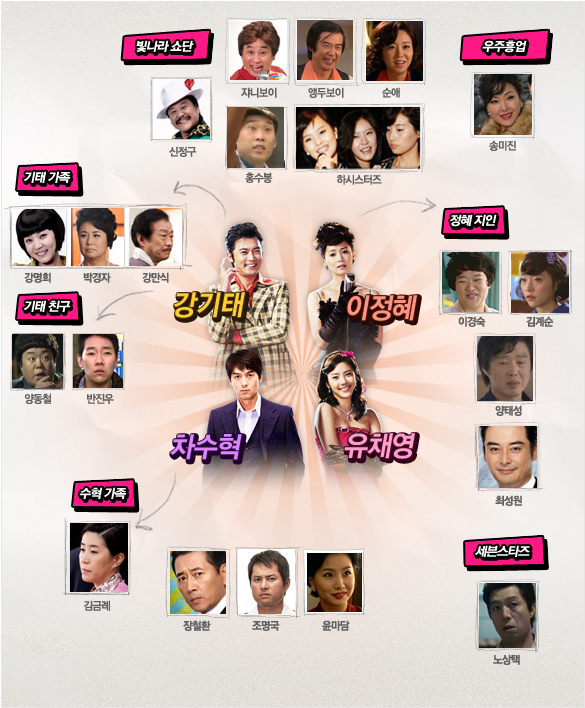 ===================
Cast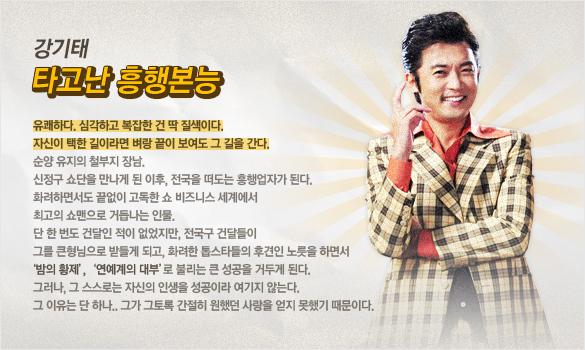 Kang Ki Tae (Ahn Jae Wook)
He is the son of a rich theater owner who has lots of influence in the showbiz industry. Although he is a cheerful and likable fellow, he tends to waste his time chasing after girls or playing around rather than helping out in his family business. He met Lee Jung Hye by chance when he was chasing after a cheater and got attracted to her. While securing a sing & dance troupe for his family's theater, he gave Jung Hye a secret chance to go on stage officially for the first time.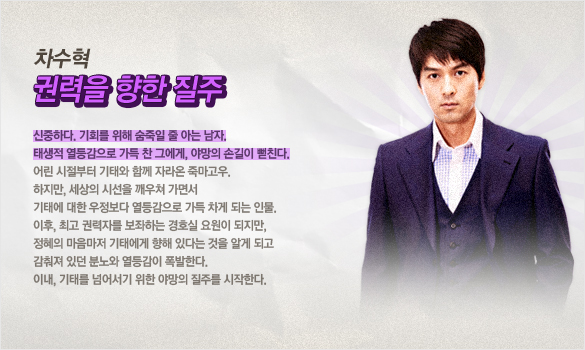 Cha Soo Hyuk (Lee Pil Mo)
He is the son of the helper who works in the Kang family. Although he grew up with the Kang siblings, he was looked down upon by Ki Tae's mother and is often over-shadowed by the popular Ki Tae. He began to work against the Kang family under the orders of Jang Chul Hwan, the rival of Ki Tae's father due to his ambitiousness to climb out of poverty, his lowly class in society and his love for Lee Jung Hye whom Ki Tae also fell in love with.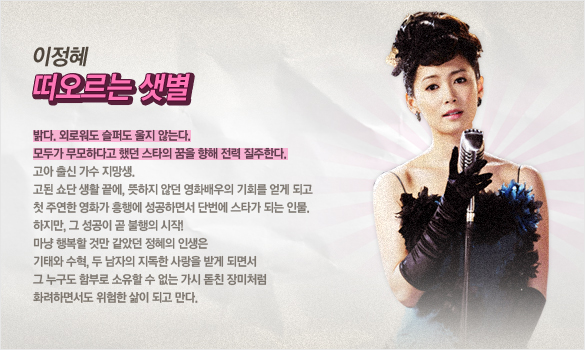 Lee Jung Hye (Nam Sang Mi)
She is the sweet candy-like girl who is not afraid of hardships to live out her dreams of going on stage. She has a love/hate relationship with the happy-go lucky Ki Tae whom she has an misunderstanding with at first.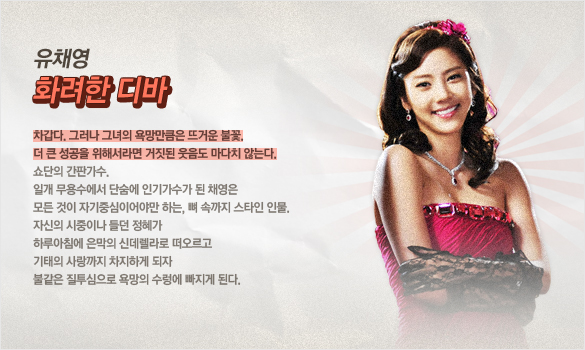 Yoo Chae Young (Son Dam Bi)
She is not a top star but has the aura and diva attitude of a top star. Although she gets jealous seeing Jung Hye, the girl who used to carry her clothes and followed her around becoming more popular than she is, she dislikes the fact that Ki Tae whom she had set her eyes on, had fallen in love with Jung Hye instead.

- Jang Chul Hwan (Jeon Gwang Ryul)

- Jo Myung Guk (Lee Jong Won)

- Shin Jung Goo (Sung Ji Roo)
===================
Must Read!! and follow!!
01.Soompi code of conduct
02.Do not post request for Subs. Do not request for Vids either. Just dled from what the other soompiers provide you.
Do not post requests for any bt seedings of any vids links as Soompi is not responsible for any of them
Do not request of translations of any kind, as translations are done by our fellow soompiers' free will.
Use the online google translator. http://translate.google.com if you want to read the basic translations of any news in korean.
Anyone who posts these kind of requests, spam or break any of soompi forum rules will be reported to the mods immediately without any warning given.
03.Do not steal any download links from AJA-AJA and paste them out to Soompi or another site.
Go directly to the aja-aja site if you want to dl anything.
04.
Do not spam your thanks for anything on Soompi thread. Pm your thanks to the user who helped you instead of posting on the actual threads.Soompi mods have already given warnings for thank you spams which wastes resources and actual server space, so pls pm the user instead if it's personal or a heartfelt thank you.
01.Due to the copyright/legal problems, no illegal streaming links will/should be posted on this thread as there had been major crackdowns going on lately.
02.Any complaints about any streaming links will be counted as spam and will be reported to the mods.
03.Any complaints of the respective companies such as Viikii, youtube, Etc.. should be report to the respective companies instead of posting your complaints here.
04.Those who are caught breaking the soompi posting rules more than once will have their Id/IDs reported the mods.
05.Those who are caught promoting/posting illegal streaming links with subs ( those without permission from the orginal subbers and doesn't have copyrights like Dramafever or Crunchyroll) will have their Id reported to the mods for endangering Soompi to legal issues for illegal streaming sites promotions.
============
Subbing group
VIKKI
====================
Links
Ratings - Credit d-addicts
Chi-subs vids
Watch online as it airs LIVE in korea (Raw) -

Must download plug-in first
Nate news