Do you have what it takes to be a Soompi Moderator? APPLY NOW!
(OFFICIAL) Micheoseo Couple T♥G Taecyeon ♥ Gui Gui; Global Couple Thread !! TaecGui ♥ YeonJie Part 1
YEONJIE
TAECGUI
Birth Name: Ok Taec Yeon
Birth Date: December 27. 1988
Height: 185 cm
Weigh: 76 kg
Blood Type: AB
Hobbies: Listening to music, wakeboarding, & skiing
Skills: Cooking
Nicknames: Okcat, Beast, Choco Taec, Rich Teeth, Ok Daeri
Ideal Woman: "Someone who is on top of their work"
Favorite Food: Loves Everything!
English Name: Gui Gui/Ghost
Chinese Name: 吴映洁 (Wu Ying Jei)
Nickname: 鬼鬼 (Ghost)
Age: 23
D.O.B: 11th Aug 1989
Zodiac: Leo
Height: 163
Weight: 49 KG
BloodType: B
Specialty: Amusement Queen











Press Conference - 28th March 2013
Full Episode - Chinese Subtitles (Dailymotion)
Cr: Kai2dayeo2pmUpdate & beny9000 & kpopmiu
Pls do not quote images/videos & make sure you are not violating the signature rules.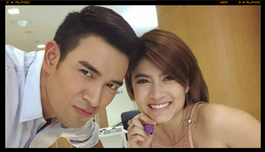 Who's Online in this Forum

139