[MBC] Choi Jin-shil, Jung Joon-ho, Jung Woong-in, Byun Jung-soo
The Last Scandal of My Life 내생애 마지막 스캔들
Previously known as: My Life's Last Romance
Production:
Logos Film
Station: MBC
Date of Airing: March 8, 2008- April 27, 2008
Episodes: 16
Time: Saturdays and Sundays 9:40 PM (Korean Time)
PD: Lee Tae-gon (Lawyers)
Writer: Moon Hee-jeong (Stairway to Heaven, Rude Women)
Cast:
Choi Jin-shil
(A Rosy Life, Star In My Heart),
Jung Jun-ho
(Princess Lulu, My Boss, My Teacher), Jung Woong-in (Rude Women), Byun Jung-soo (Bad Couple), Lee Young-ja, Han Bo-bae, Kim Byun-se, Kim Cheong
Official Site:
http://www.imbc.com/broad/tv/drama/lastscandal/index.html
English Site:
http://content.mbc.co.kr/english/drama/08/1674784_25450.html
Drama Info from MBC Global Media
When a woman turns 39, she'll think about getting Botox injections to cover up her wrinkles that don't seem to recede well under cheap wrinkle removing cosmetics. She'll also probably need to wear a corset to tuck in her flabby stomach and bulging hips but she'll ignore such thoughts as she lives in a world where she thinks she's still a nubile teenager. This is another TV drama that is presented to middle-aged women who dream of wonderful romances.
Going back and forth from fantasy and reality, this new-school drama, "Scandalous Affair" will bring back flashbacks of those days when their hearts fluttered when they met their first love. This drama is dedicated to middle-aged women who still dream of being reunited with their first love!
What if Cinderella was portrayed as a 39-year old woman with a kid? That's the opening scene for this drama that tries to give hope to middle-aged women - who watch teen romances to vicariously relive the good ol' days - that they can also overcome the constraints of their middle-aged lives and find true love once again.
A woman who has inner beauty is called a middle-aged woman.
They've learned the wisdom of life, which eludes the youth, as they are a year away from hitting the big Four-O. They've learned that real love is looking after their families first and foremost. They're also humble and will be thankful when someone tells them that they look great. They're beautiful in every way.
This drama will provide them with a solution in life that they themselves are not aware of.
Women are beautiful even when they are forty or fifty simply because they are feminine beings!
Cast
Hong Sun-hee | actress Choi Jin-shil
Occupation
Homemaker, temp for odd jobs (stand-in audience work, extra in TV commercials, housekeeper, writer assigned to movie star)
Family
In-laws, husband, daughter, and a sister-in-law who bosses her around.
Personality
Cheerful, calculative, playful, optimistic, positive, simple-minded, feisty...
Has a soft heart and laughs and cries a lot.
Dream
I can be anything I want!
"Pay off the house mortgage before I turn 40"
"Track down my missing husband"
"Find a full-time job instead of part-time jobs"
She was raised in a wealthy family and had a comfortable life in her youth. She was known for her beautiful looks and had high standards.
She was selected as the spokes model for the Asian Games among many high school candidates and inherited her pretty looks and smarts from her parents. She was a charming person who had a well-rounded personality. In her youth, many high school jocks would bring her flowers. As the most popular girl in school everybody knew her… But when her dad's business failure coincided with the death of her first loves, her life began to unravel.
While putting on a brave face as a mom, wife, and dutiful daughter-in-law, she endured the ups and downs in life. Her writing talents were put to use in keeping a second accounting book to deceive her penny-pinching husband while her witty talents as a conversationalist was employed to spread little lies in order to skim small amounts of money from her allowance. All in all, life dealt her a tough hand and she transformed into a feisty, brash, middle-aged woman!
Song Jae-bin: Jang Dong-chul | actor Jung Jun-ho
Occupation
Movie star with many lucrative contracts with top brands
Family
Older brother who is also his agent. Nephew.
Personality
He's known as a romantic man with a charismatic personality that was partly cultivated by his movie roles.
In reality he is immature, talkative and a softie who likes to act childish. He was born with a raw acting talent that flows naturally from within him.
Dream
Wishes to live as he who really is ~
In his high school days, he was dumped by his first love, Na Sung-shil. He was dumped again by the first actress he dated after he entered show business. After getting dumped twice in life, he is thoroughly burned from the relationships he had with women. Since then, he never takes relationships seriously and keeps the women he dates at arm's length. He is committed in staying single. Currently, he is obsessed with his work.
He's been an actor for 15 years and although his image is different from who he is he does have adorable eyes and a knockout figure. His million-watt smile made him adorable to women. As the top symbol of a metro sexual type, he is widely acknowledged as a playboy in the public eye, as well as with the circle of women who he dates. He is in the paper all the time for his numerous scandals and the women keep coming into his orbit. But he hardly lets himself get too involved and is always the first one to dump his partner.
This is because he's not anything like the person that people believe he is.
He was voted as the cutest celebrity by winning more votes than a younger star! All of this was made possible thanks to the crafty planning of his older brother, who is also his agent. He finds it annoying to follow his brother's orders but whenever he's in a tight spot, he'll call his brother immediately for help.
Jang Dong-hwa | actor Jung Woong-in
Occupation
Song Jae-bin's agent and head of the Future Entertainment Agency
Family
Celebrity younger brother and son
Personality
He's passionate but also has an icy temperament. Hiding his inner sensitivities, he's rational, meticulous, aloof, and sensible. He's a realist who knows how to navigate through tight situations.
Dream
Start a 4D theater business and become the king of entertainment in Asia and beyond.
His parents died when he was just a teen and that put him in charge of his dad's business where he also looked after his brother, trying to be like a father figure to him. He never was interested girls. So he doesn't much about women even though he is in his forties. But he did form his own notion of what women are like by reading books on the subject of the female sex. He gets involved in one situation where he develops a misogynist attitude …
Lee Na-yun | actress Byun Jung-soo
Occupation
Movie actress
Family
Unknown
Personality
She looks feminine and pure in her outward appearance.
However, she's full of ambition and greed inside.
Dream
She has a hidden lover who bankrolls her glamorous life while her goal is to sustain her stardom for as long as possible.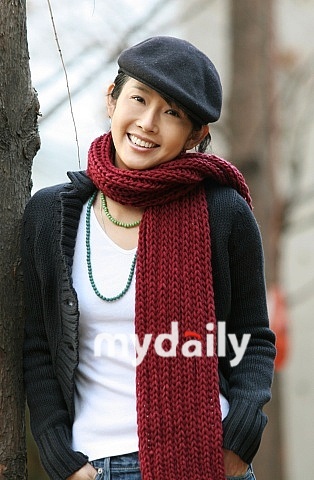 http://www.mydaily.co.kr/news/read.html?ne...1111&ext=na
Choi Jin Shil will return to act in MBC 16 eps weekend drama 'My life's last romance' which airs in March after Winter Bird ends after an eight months break.
src:
Yeohweping
*special thanks to Dramaok (Mic) for the clarifications*
Jung Jun-ho is selected to lead the drama Last Scandal with Choi Jin-shil. JJH's last drama was Princess Lulu aired in 2005
related news c/o
Yeohweping
Jung Jun Ho is confirmed as the male lead of MBC drama 'Last scandal' (previous title' The last romance of my life') which he'll be co-starring with Choi Jin Shil.
Choi Jin Shil will be playing a strong, happy go lucky housewife who accidentally meets her first love (JJH) who has became a famous star again while searching for her husband who had ran away after landing the family in debts.
http://news.media.daum.net/entertain/broad.../v19804768.html
http://kr.news.yahoo.com/service/news/shel...;newssetid=1352
WithS2
Will be Subbing This Drama as their Side Project (posted by
ay_link
)
Hello everyone!
As this series is getting closer to its finale, and since it has proven to be such a great series,
WITH S2 is officially announcing Last Scandal to be our newest SIDE PROJECT *yay!*
So, if you love this drama as much as I do, and willing to help us to translate and sub this 16 episodes full of awesomeness,
our troops would be happily welcomed you all in our gigantic family of WITH S2
Please feel free to PM mily2 or myself, and we'll follow up with you as soon as we can.
As you know we do have other projects to take care of, so we would really really appreciate any help we can get,
especially from translators (Korean/Chinese translators)
We'll be waiting for you and together we will ROCK this series and bring JummaRella to society!
Thank you and you will be blessed! ^__^
http://fansub.d-addicts.com/With_S2
related articles
Byun Jung-soo Casting News
Choi Jin-shil Beat The Movie Star Jung Jun-ho
Last Scandal: A New Drama of Strong Spirited Ajumma
Last Scandal In My Life Joins The Battle of Weekend Dramas
Ajumma now depicted as smart, strong, cool
The Last Scandal Of My Life Adds 4 More Episodes
"Last Scandal of My Life" gaining interest among audience
Interview with Jung Jun-ho (March 4, 2008), who stars as Song Jae-bin in Last Scandal
Wedding Bells (almost, kinda) for Jung Jun-ho
News for Last Scandal Season 2
(Kdramafanusa)
So I guess it wasn't really the LAST scandal of his life
Last Scandal Season 2 Officially Canceled
Press Conference Pics (c/o)Huangsy, Koalabear)
1
,
2
Teaser Trailer
http://www.imbc.com/broad/tv/notice/1672163_4771.html
Photo Gallery
http://www.imbc.com/broad/tv/drama/lastsca...hoto/index.html
Wallpaper
http://www.imbc.com/broad/tv/drama/lastsca...aper/index.html
Episode Previews
http://www.imbc.com/broad/tv/drama/lastsca...view/index.html
Episode 1
http://www.imbc.com/broad/tv/drama/lastsca...3597_25699.html
Episode 2
http://www.imbc.com/broad/tv/drama/lastsca...3053_25699.html
Episode 3
http://www.imbc.com/broad/tv/drama/lastsca...4750_25699.html
Episode 4
http://www.imbc.com/broad/tv/drama/lastsca...5096_25699.html
Episode 5
http://www.imbc.com/broad/tv/drama/lastsca...5783_25699.html
Episode 6
http://www.imbc.com/broad/tv/drama/lastsca...6111_25699.html
Episode 7
http://www.imbc.com/broad/tv/drama/lastsca...6925_25699.html
Episode 8
http://www.imbc.com/broad/tv/drama/lastsca...7123_25699.html
Episode 9
http://www.imbc.com/broad/tv/drama/lastsca...8004_25699.html
Episode 10
http://www.imbc.com/broad/tv/drama/lastsca...8318_25699.html
Episode 11
http://www.imbc.com/broad/tv/drama/lastsca...9089_25699.html
Episode 12
http://www.imbc.com/broad/tv/drama/lastsca...9320_25699.html
Episode 13
http://www.imbc.com/broad/tv/drama/lastsca...0162_25699.html
Episode 14
http://www.imbc.com/broad/tv/drama/lastsca...0430_25699.html
Episode 15
http://www.imbc.com/broad/tv/drama/lastsca...1471_25699.html
Episode 16
http://www.imbc.com/broad/tv/drama/lastsca...1675_25699.html
Ratings (DramaWiki, TNS Media)
Date Episode Nationwide Seoul
2008-03-08 1 9.8 (13th) 10.2 (12th)
2008-03-09 2 9.6 (20th) 10.3 (16th)
2008-03-15 3 12.3 (10th) 12.7 (8th)
2008-03-16 4 12.8 (13th) 13.0 (12th)
2008-03-22 5 12.3 (9th) 12.5 (8th)
2008-03-23 6 14.5 (9th) 15.2 (8th)
2008-03-29 7 13.8 (8th) 14.1 (8th)
2008-03-30 8 15.9 (8th) 16.6 (8th)
2008-04-05 9 18.0 (5th) 17.6 (5th)
2008-04-06 10 19.2 (4th) 20.4 (4th)
2008-04-12 11 16.8 (5th) 17.2 (5th)
2008-04-13 12 17.6 (4th) 18.2 (4th)
2008-04-19 13 17.6 (5th) 18.3 (6th)
2008-04-20 14 16.5 (5th) 17.5 (4th)
2008-04-26 15 17.7 (5th) 18.7 (5th)
2008-04-27 16 19.5 (4th) 21.2 (4th)
Screencaps
(Koalabear, Baima22)
Ep.1
,
Ep.2
,
Ep.7
,
Ep. 9
,
Episode 10
,
Episode 11a
,
Episode11b
,
Episode 12
,
Episode 12 a
Behind The Scenes
(Koalabear, Baima22)
1
,
2
,
3
Streaming Links
(tooloveli3)
Episode 1
Episode 2
Episode 3
Episode 4
Episode 5
Episode 6
Episode 7
Episode 8
Episodes 9 and 10
Episode 11
Episode 12
Veoh The Last Scandal Of My Life Channel
(ameizeing)
http://www.veoh.com/channels/last-scandal
DownloadsClubbox
Mandalaywith
http://clubbox.co.kr/mdy80
WithS2
http://clubbox.co.kr/WITHS2CB
With S2's Aja-aja/Aigoo Site
http://aja-aja.com/regular/last-scandal
pic src: WithS2
http://withs2.com/view/last-scandal/
Episode 1 Ental
Episode 2 Ental
Episode 3 Ental
Episode 4 Ental
Episode 5 Ental
Episode 6 Ental
Episode 7 Ental
Episode 8 Ental
Episode 9 Ental
Episode 10 Ental
Episode 11 Ental
Episode 12 Ental
Episode 13 Ental
Episode 14 Ental
Episode 15 Ental
Episode 16 Ental
Cococrust
ep 1 c-sub
http://www.sendspace.com/file/wbav5w
ep 2 c-sub
http://www.sendspace.com/file/749l34
ep 3 c-sub
http://www.sendspace.com/file/bmcrn9
ep 4 c-sub
http://www.sendspace.com/file/2ekith
ep 5 c-sub
http://www.sendspace.com/file/i4h76b
ep 6 c-sub
http://www.sendspace.com/file/vab96i
ep. 7 c-sub
http://www.sendspace.com/file/nayjvo
ep 8 c-sub
http://www.sendspace.com/file/jsmcg0
ep 9 c-sub
http://www.sendspace.com/file/i6ijje
ep 10 c-sub
http://www.sendspace.com/file/8mrofp
ep 11 c-sub
http://www.sendspace.com/file/exzqjd
ep 12 c-sub
http://www.sendspace.com/file/yycln1
ep 13 c-sub
http://www.sendspace.com/file/y1ryuk
ep 14 c-sub
http://www.sendspace.com/file/gvxkli
ep 15 c-sub
http://www.sendspace.com/file/c890o5
ost
http://www.sendspace.com/file/44x6s1
Gigafile Links (jtranla)
1
,
2
Baima22
NG'S
http://v.youku.com/v_show/id_cd00XMjMyOTkwMDg=.html
credits to Malix from krdrama.com
http://v.youku.com/v_show/id_cd00XMjQwNDYzMTI=.html
http://www.imbc.com/broad/tv/drama/lastsca...?list_id=621144
http://v.youku.com/v_show/id_cd00XMjU1NDc5NDA=.html
Jung Jun-ho, Choi Jin-shil Interview
(Baima22)
http://v.youku.com/v_show/id_cd00XMjM0MjQ3MzY=.html
http://player.youku.com/player.php/sid/XMjI4MzM4ODA=/v.swf
http://v.youku.com/v_show/id_cd00XMjUyNjY2Mjg=.html
YTN Star Jung Jun-ho Interview
(Meocon97)
http://starvod.ytn.co.kr/ytnstar/general/m...024251608_s.wmv
Section TV April 18, 2008 Interview
(Baima22)
http://v.youku.com/v_show/id_cz00XMjQ2NDg4MDA=.html
Actor Kim Byung-se Interview (plays Ahn Yoo-sik)
(Baima22)
http://v.youku.com/v_playlist/cd00f1417322o9p39.html
Episode Summaries
(
tooloveli3/Baima22/Shuky/poptartsgurl/piglets888
)
Episode 1
,
Episode 2
,
Episode 3
Episode 4
,
Episode 5
,
Episode 7 Pt.1
,
Episode 7 Pt.2
,
Episode 8
,
Episode 9
,
Episode 11 Part 1
,
Episode 11 Part 2
,
Episode 11 Part 3
,
Episode 12
,
Episode 13
,
Episode 14
,
Episode 15 Pt.1
,
Episode 15 Pt.2
,
Episode 16
Episode Summaries
http://bimbibap.com/
Episode Summary Eps. 1-4
http://bimbibap.com/2008/03/24/last-scandal-episode-1-4/
Episode Summary Eps. 5-10
http://bimbibap.com/2008/04/14/last-scandal-episode-5-10/
Episode Summary Ep.11
http://bimbibap.com/2008/04/14/last-scandal-episode-11/
Episode Summary Ep. 12
http://bimbibap.com/2008/04/14/last-scandal-episode-11/
Episode Summary Ep. 13
http://bimbibap.com/2008/04/last-scandal-episode-13/
Episode Summary Ep. 14
http://bimbibap.com/2008/04/last-scandal-episode-14/
Episode Summary Ep.15
http://bimbibap.com/2008/04/last-scandal-episode-15/
Episode 16
http://bimbibap.com/2008/04/last-scandal-final-episode/
Videos
The Last Scandal Of My Life OST Love is Coming by Byun Jin-sup
http://minihp.cyworld.com/pims/main/pims_m...p;folder_part=3
Fan Made MV...On Days That I Miss You by Park Ji-hun
http://minihp.cyworld.com/pims/main/pims_m...p;folder_part=3
Youtube Fan Made MV's
uploaded by dodlsdltdjdy
http://www.youtube.com/watch?v=JxVrXk9z3CA
http://www.youtube.com/watch?v=L69ILl2r-bg
MV: Stop and Stare by ajewell
http://www.youtube.com/watch?v=qkCuHCoWr0M
LAST SCANDAL MV: Best Days (ajewell)
http://www.youtube.com/watch?v=-HryQF08foU
from Hafi
http://www.youtube.com/watch?v=HSVxdE4PzZQ
from Oink
http://www.youtube.com/watch?v=zKLv3eqoc9Y
MV Last Scandal - Sun Hee Theme
Song : The OST "Ae In It Suh Yo By Lee Eun Mi "
Clips : Sun Hee's scenes from K-Drama "Last Scandal Of My Life" (MBC-2008)
http://www.youtube.com/watch?v=BQItqaF44do
MV Last Scandal - Love Is Coming
Song : The OST "Sarang Ee Ol Gga Yo By Byun Jin Sup"
Clips : All Cast's scenes from K-Drama "Last Scandal" (MBC-2008)
http://www.youtube.com/watch?v=buGougTJEiw
MV Last Scandal - Sun Hee and Jae Bin's Love Theme
Song : The OST "Yak Sok By Jung Joon Ho"
Clips : Sun Hee and Jae Bin's scenes from K-Drama "Last Scandal" (MBC-2008)
The Last Scandal of My Life OST
01. sarang ee ol gga yo - Byun Jin Sup
02. sul re im - Byun Jin Sup
03. jal na ga dun yuh ya - Sunny Hill
04. ae in it suh yo - Lee Eun Mi
05. yak sok (Jaebin Theme) - Jung Joon Ho
06. nae saeng ae ma ji mak scandal
07. Pizzicato Life
08. Strange Women (Jungsook Theme)
09. Child Theme
10. I Have Power
11. Sunhee Sad Theme
12. sarang ee ol gga yo (Swing Ver)
13. sarang ee ol gga yo (Soft Ver)
14. sul re im (Piano Ver)
15. jal na ga dun yuh ya (Bossanova Ver)
16. ae in it suh yo (Variation)
17. yak sok (Variation)
18. sarang ee ol gga yo (Instrumental)
19. jal na ga dun yuh ya (Instrumental)
or
mms://aod.mylisten.com/aod/1/70/084170_1086460.wma
mms://aod.mylisten.com/aod/1/70/084170_1086461.wma
mms://aod.mylisten.com/aod/1/70/084170_1087219.wma
mms://aod.mylisten.com/aod/1/97/069197_0894353.wma
mms://aod.mylisten.com/aod/1/70/084170_1087221.wma
mms://aod.mylisten.com/aod/1/70/084170_1087222.wma
mms://aod.mylisten.com/aod/1/70/084170_1087223.wma
mms://aod.mylisten.com/aod/1/70/084170_1087224.wma
mms://aod.mylisten.com/aod/1/70/084170_1087225.wma
mms://aod.mylisten.com/aod/1/70/084170_1087226.wma
mms://aod.mylisten.com/aod/1/70/084170_1087227.wma
mms://aod.mylisten.com/aod/1/70/084170_1087228.wma
mms://aod.mylisten.com/aod/1/70/084170_1087229.wma
mms://aod.mylisten.com/aod/1/70/084170_1087230.wma
mms://aod.mylisten.com/aod/1/70/084170_1087231.wma
mms://aod.mylisten.com/aod/1/70/084170_1087232.wma
mms://aod.mylisten.com/aod/1/70/084170_1087233.wma
mms://aod.mylisten.com/aod/1/70/084170_1087234.wma
mms://aod.mylisten.com/aod/1/70/084170_1087235.wma
src:
Drama and Movie OST Thread
http://www.soompi.com/forums/index.php?sho...2111&st=120
**thanks a bunch to all people who contributed much in making this thread a blast! ^ ^ **
Soompi Rules