[KBS] Joo Won, Jin Sae-yeon, Park Ki-woong, Han Chae-Ah, Shin Hyun-joo
Bridal Mask 각시탈
Title
: 각시탈 / Gaksital
Episodes
:
24
28
Broadcast Network
: KBS2
Release Date
: May 30th, 2012
Air time
: Wednesday & Thursday 21:55 KST
Official Website
:
KBS
PD
: Yoon Sung-shik
Writer
: Huh Young-Man (Comic), Yoo Hyun-mi (Script)
Replaced
:
The Equator Man
Followed by
:
Nice Guy
Synopsis
Gaksital is a famous manhwa set in the 1930s, during the Japanese occupation. The hero, Lee Kang-to, is known as 'Gaksital' because he wears a mask to hide his face — one of those traditional play masks, specifically the rosy-cheeked one reserved for the female role, aka the bride. He's an unassuming young man in real life, but when he dons his superhero mask, he fights injustice and rights wrongs during one of the darkest periods of Korea's history. --
Dramabeans
Cast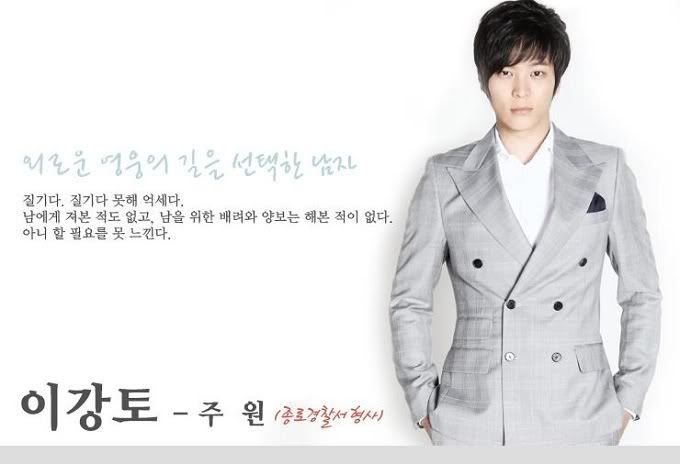 Joo Won
as Lee Kang-to
"He's never lost to anybody. He's never acted out of consideration for others, or yielded to them. No, he doesn't feel the need to." His father, a high-ranking official active in the independence movement, died at the hands of bandits after crossing the Yalu River, after which he was left to fend for himself, hiding in the harsh terrain of the Gaema Plateau, fighting with beasts over a mere potato. Still, Kang-to tamped down his own desires and endured because of his older brother, who would one day help re-establish their family name. But one day his brother suffers an injury and is turned into an imbecile—all thanks to that damn independence movement. And so, Kang-to decided: "Forget Joseon, ruled by the king's line—I'll be loyal to the Imperial Japanese Empire, where the slave who used to dress the lord can become a ruler." With no money, backing, or education, he hears that a man can die a martyr if only he has strong fighting skills, and throws himself into learning geomdo (kendo). Once he earns that recognition for his skills, he becomes the capital's top "cold city man," the crown prince of the social world. "But he had no idea that with the appearance of that damned Bridal Mask, the sweet dream would shatter. Or the fate that awaits him…"
Jin Sae-yeon
as Mok Dan
A member of a circus troupe with a bright personality. Whenever she starts to feel despair, she reminds herself that she's the daughter of a leader in the independence army, a man born into the lowly slave caste who rose to become army general. At the age of ten, she and her mother crossed the northern border in search of her father, only to have Mom die. And while Dan hovered between life and death, she was saved by the young man, our hero. Her life's goals become twofold: Find her savior, and find her father. It's for that reason that she gives up an advantageous opportunity to leave for America and chooses instead to wander the entire country with a traveling theater troupe, learning the arts, keeping her ears open for any talk of those two men.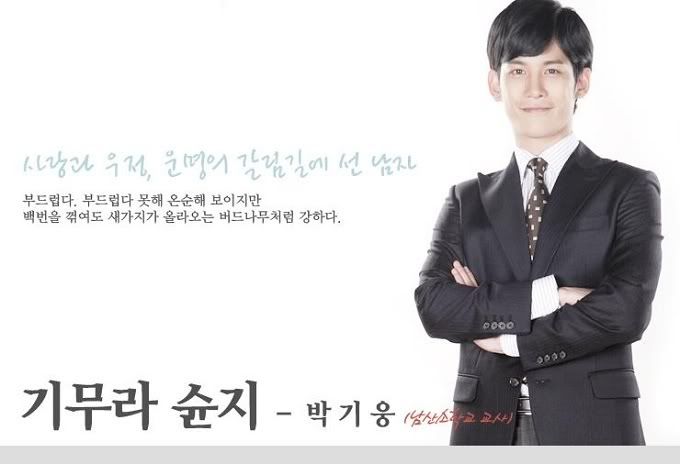 Park Ki-woong
as Kimura Shunji
A teacher living in the capital (Kyungsung, or old Seoul) with a gentle personality that belies a strong backbone. His father was a samurai and Shunji was raised learning how to swordfight, but he grew up to become the opposite of his father's ways. When Dad told him that Joseon was a land of savages, he disagreed and gave up the sword, choosing to become a teacher there. Shunji was born in Kyungsung and had a loving Korean nanny, and perhaps for that reason he has affection for the country. He falls for a Korean woman as well, our heroine… who loves Kang-to, his friend. And this love rivalry with Kang-to sparks a change in Shunji, which sounds like lots of angst is in store for his future.
Han Chae-ah
as Chae Hong-joo
A Korean woman who takes up a Japanese identity and reinvents herself as Ueno Rie. Hong-joo/Rie is a strong woman with diverse sides—a singer, a gambling master, a spy who makes poisons and explosives—who's skilled with artifice and lies. She was born to an aristocratic family, but because her father refused to monetarily support the independence army, the general killed him. Her mother died from the shock and their servants burned the house down, overturning her life entirely. Hong-joo became an orphan and beggar, driven to survive to avenge her parents' deaths, becoming a gisaeng at the age of nine. The mere mention of Joseon's independence army has her burning up in fury, which goes noticed early on by a Japanese man named Ueno Hideki, who adopts her as his daughter. Thus she undergoes army training and comes to Joseon to kill the man known as Bridal Mask who has been killing members of their secret organization Kishokai.
Character descriptions taken from Dramabeans.
Lee Family
Lee Kang To 이강토 ( Joo Won 주원) - Lieutenant in the Imperial Police Force
Lee Kang San 이강산 ( Sin Hyeon Joon 신현준)- Kang To's older brother
Han Ssi 한씨( Song Ok Seok 송옥숙) Kang To's mother
Lee Seon 이선 ( Lee Il Jae 이일재)- Kang To's father
Kimura Family
Kimura Shunji ( Park Gl Woong )- Nam San Elementary school teacher
Kimura Taro 타로 ( Cheon Ho Jin 천호진 )- Chief of Police ( also Shunji & Kenji's father), Jong Ro Police Station
Kimura Kenji ( Park Joo Hyeong 박주형 )- Shunji's brother
Dam Family
Mok Dan 목단 ( Jin Se Yeon 진세연 )- Circus member, 변검술사 - Bong Yi or Esther
Dam Sa Rl- 담사리 (Jeon No Min 전노민)- Mok Dan's father & freedom fighter
Police
Konno Koji 콘노 고지 ( Kim Eung Soo김응수 ) - Chief of Police, Joseon Governor District Office or Japanese Government General of Joseon.
Abe Shinji 아베 신지 ( Yoon Bong Gil윤봉길 ) - Kang To's subordinate
Goiso Tadanobu 고이소 타다노부 ( Yoon Jin Ho윤진호 ) - Kenji's subordinate
The Joseon Characters
Baek Geon 백건 (Jeon Hyeon 전현)- Lee Seon's subordinate
Bak In Sam 박인삼 ( Kim Tae Yeong 김태영 )- Kyeong Seong Ilbo newspaper owner
Minami Tamao 미나미 타마오 ( Choe Dae Hoon최대훈 )- Movie Director's pseudonym (real name is 이해석 Lee Hae Seok )
Lee Hwa Gyeong 이화경 ( Kim Jeong Nan 김정난 )- Lee Si Yong (royalty)'s second wife
Lee Si Yong 이시용 ( Ahn Seok Hwan 안석환 )- royalty, 중추원 참의 Count Lee Si Yong
Jo Yeung Geun- Cho Il Bank 조일은행 , Koshikai member, Kyeong Seong Branch
The Circus Family
Jo Dan Jang 단장 ( Son Byeong Ho 손병호 )- Leader Jo, circus leader
Oh Dong Nyeon 오동년 ( Lee Kyeong Sil이경실 )- circus member
Sin Nan Da 신난다 ( Lee Byeong Joon이병준 )- circus member
Seon Hwa 선화 ( Son Yeo Woon 손여운 )- circus member
Jye Soon 계순 ( Seo Yoon Ah )- circus member
Japanese
Jae Hyong Joo/ Ueno Rie 채홍주 ( Han Chae Ak 한채아 ), singer
Ueno Hideki 히데키 ( Jeon Gook Han전국환 )- Hong Joo's adopted father
Kachuyami Jun 카츠야미 준 ( Ahn Hyeong Joon 안형준 )- Hong Joo's bodyguard
Angel Club
Tasa 타샤 ( Ji Seo Yoon 지서윤 )- Madam & Manager of Club Angel
Bong Sil Jang 봉실장 ( Baek Jae Jln백재진 )- in charge of running Club Angel
Merl 메리 ( Jang Joon Yoo장준유 )- dancer girl at Club Angel
No Sang Yeob 노상엽 ( Lee Jae Won이재원 )- waiter at Club Angel
Kishokai 키쇼카이 경성지부 Kyeong Seong Branch ??
Choe Myeong Seob 최명섭 ( Gwon Tae Won권태원 )- Judge
Woo Byeong Joon 우병준 ( Kim Kyoo Cheol김규철 )- Hospital Director
Koshikai members
Tasha or Tasa
Choe Myeong Seob
Lee Si Young
Jo Yeung Geun
Baek In Sam
Character list credits to ck1Oz
Downloads
OST
(yame)
Torrent
(semi-fly)
01
|
02
|
03
|
04
|
05
|
06
|
07
|
08
|
09
|
10
|
11
|
12
|
13
|
14
|
15
|
16
|
17
|
18
|
19
|
20
|
21
|
22
|
23
|
24
|
25
|
26
|
27
|
28
Livestreaming
IONAIR.TV
Wubisheng
Live Recapping
SoulsRebel
Vingle
Subtitles
DramaFever
Viki
English-SRT (Viki Team/ahoxan)
Chinese Subtitles (cococrust)
For News/Interviews/BTS Check This Post -->
HERE
(managed by sunshine4ever)
Ratings
(jordi)
| | | | | |
| --- | --- | --- | --- | --- |
| Episode | TNmS Nationwide | TNmS Seoul | AGB Nationwide | AGB Seoul |
| 01 | 12.6% | 12.8% | 12.7% | 13.3% |
| 02 | 12.4% | 13.3% | 12.4% | 12.9% |
| 03 | 13.3% | 14.5% | 13.6% | 13.9% |
| 04 | 14.8% | 14.9% | 15.6% | 16.7% |
| 05 | 13.8% | 14.1% | 14.5% | 15.4% |
| 06 | 15.5% | 16.3% | 15.0% | 15.7% |
| 07 | 15.3% | 15.5% | 15.5% | 16.5% |
| 08 | 15.4% | 15.0% | 15.5% | 16.3% |
| 09 | 14.7% | 13.9% | 14.8% | 15.2% |
| 10 | 15.9% | 15.3% | 14.6% | 15.0% |
| 11 | 17.6% | 17.2% | 14.8% | 15.8% |
| 12 | 16.5% | 15.6% | 14.0% | 14.0% |
| 13 | 16.5% | 15.6% | 14.4% | 14.4% |
| 14 | 17.3% | 16.3% | 16.3% | 17.5% |
| 15 | 17.2% | 16.8% | 15.2% | 16.7% |
| 16 | 18.1% | 17.3% | 16.8% | 18.2% |
| 17 | 16.7% | 16.8% | 15.6% | 16.3% |
| 18 | 16.9% | 16.3% | 18.0% | 18.2% |
| 19 | 19.3% | 18.8% | 18.3% | 18.2% |
| 20 | 20.6% | 20.6% | 19.5% | 19.8% |
| 21 | 22.6% | 23.1% | 19.4% | 18.8% |
| 22 | 21.9% | 22.4% | 19.7% | 19.5% |
| 23 | 22.2% | 22.4% | 19.8% | 19.5% |
| 24 | 22.3% | 22.9% | 20.3% | 20.2% |
| 25 | 19.4% | 19.4% | 20.4% | 20.6% |
| 26 | 22.8% | 22.9% | 21.4% | 21.7% |
| 27 | 24.3% | 26.1% | 21.5% | 21.9% |
| 28 | 27.3% | 27.7% | 22.9% | 23.2% |