[Drama 2013] The Gu Family Book 구가의 서

Date of airing :

8th April 2013


Broadcasting station : MBC
Time of airing :

9:55 pm (MON/Tues ) (korean time)


Official site : http://www.imbc.com/broad/tv/drama/gufamilybook/
Official eng site : http://content.mbc.co.kr/english/drama/13/2204116_49043.html
Writer :
강은경 Kang Eun Kyung
PD :
신우철 Shin Woo Cheol

Eps: 24 (70mins each)
Main Cast :
Lee Seung Gi, Bae Suzy,
Yoon Yeon Seok
Supporting Cast : Jung Hye Young, Choi Jin Hyuk, Lee Yoo Bi, Park Seong Woong, Lee Sung Jae, Uhm Ho Sub, Park Ju Hyung, Jo Jae Yoon, Kim Hee Won,
Lee Yeon Hee, Kim Bo Mi

Story :
Cho Gwan Woong (Lee Sung Jae) who was born the lowest of class and was looked down upon
by the people, managed to turn his desperate life around after getting first place in the military scholar exams. Blinded by his ambitions and greed for power, he caused the death of Minister Yoon and brought downfall to the Yoon family when he falsely accused them of treason. Yoon Seo Hwa (Lee Yeon Hee) who was sold as a gisaeng to Chun Hwa Gwan, escapes with the help of Chun Soo Ryun (Jung Hye Young) and her maid (Kim Bo Mi) when she learns that her enemy, Gwan Woong has his eyes on her.
Seo Hwa & the guardian god of Jiri mountains, Gu Wal Ryung (Choi Jin Hyuk) met and fell in love when she ran to hide out in the mountains but Gwan Woong soon catches wind of her whereabouts and comes hunting for her once again. Feeling unable to raise her son while escaping along with the fact that Wal Ryung has disappeared as well, she sent him down the river in basket hoping that someone could take him in. Meanwhile, Wal Ryung who has lost all his memories began to serve under his enemies as their underling. The only thing that will make the normally amnesiac expressionless Wal Ryung goes in frenzy is whenever he gets to hear Seo Hwa's name.
Choi Kang Chi who grew up with the Park family after he was picked up from river by Park Moo Sol (Uhm HoSub), the father of Park Kyung Jo (Lee Yoo Bi) and Park Tae Soo (Yoon Yeon Seok). Although Park Tae Soo used to treat him like a brother when they were younger, he started to feel a strong hatred towards Kang Chi when he misunderstood that Kang Chi is the main cause of the downfall of his family while Park Kyung Jo who always looked on him began to make use of Kang Chi to pave her way back to the noble status that her family once held after she was sold as a gisaeng to Chun Hwa Gwan and fate leads Kang Chi to meet up with Chun Soo Ryun, the head Gisaeng twenty years later after she encountered his mother.
Dam Yeo Wool (Bae Suzy), the daughter of Kang Chi and Tae Soo's teacher is one of the instructors of the martial arts school and despite her young age, Yeo Wool is highly skilled in archery. Although the cross-dressing Yeo Wool is always clashing with Kang Chi
because of their different personalities, they find themselves falling for each other as they got to know each other better. Kang Chi soon discovers that he is actually a half-man and half-beast when his special abilities began to show after he goes after some criminals and to become a full human, he needs to find the Gu family's book to find the way to become one. When Kang Chi sets off on journey to seek his humanity, he ended up confronting his greatest enemy of his life, his father who never aged nor knew about his existence.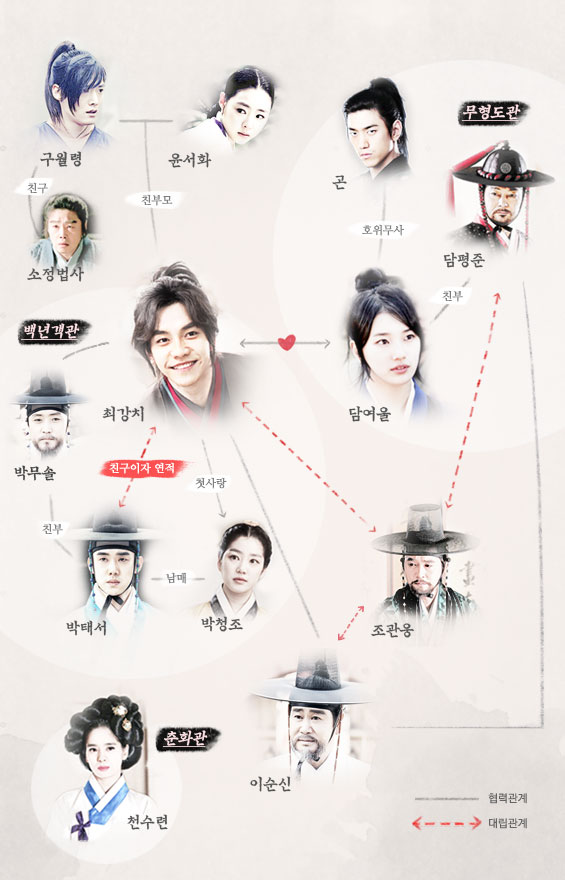 ===================
Must Read!! and follow!!



01.Soompi code of conduct


02.Do not post request for Subs. Do not request for Vids either. Just dled from what the other soompiers provide you.
Do not post requests for any bt seedings of any vids links as Soompi is not responsible for any of them
Do not request of translations of any kind, as translations are done by our fellow soompiers' free will.
Use the online google translator. http://translate.google.com if you want to read the basic translations of any news in korean.
Anyone who posts these kind of requests, spam or break any of soompi forum rules will be reported to the mods immediately without any warning given.
03.Do not steal any download links from AJA-AJA and paste them out to Soompi or another site.
Go directly to the aja-aja site if you want to dl anything.
Don't post any requests for subs!
Anything unrelated to the drama plot is considered spamming.

01.Due to the copyright/legal problems, no illegal streaming links will/should be posted on this thread as there had been major crackdowns going on lately.
02.The editing fuction of the forum has already been fixed so you can edit your posts instead of repeating postings thinking that you can't.
03.Any complaints about any streaming links will be counted as spam and will be reported to the mods.
04.Any complaints of the respective companies such as Viikii, youtube, Etc.. should be report to the respective companies instead of posting your complaints here.
05.Those who are caught breaking the soompi posting rules more than 5 times will have their Id/IDs reported the mods.
06.Those who are caught promoting/posting illegal streaming links with subs ( those without permission from the orginal subbers and doesn't have copyrights like Dramafever or Crunchyroll) will have their Id reported to the mods for endangering Soompi to legal issues for illegal streaming sites promotions.
====================


Links

Nate news link
Aja Aja's DL links (Raw + OST) for members only
Official drama twitter
Live drama recaps site
Official DC link
Ratings
If you like our Fansubs, please help donate to Soompi or withS2 to keep them alive.
No promotions of illegal streaming sites
Having fun with
Little Missy And The Unlucky Teacher
/
Lim Ju Eun
/
Jumping rabbit's vids
The best dramas can in
Aja-Aja.com
/
Twitter
/
Repentance
Next Drama threads set up - Chocolat, Bride of the water god
Who's Online in this Forum

46